Dinner panic?
Try this Zesty chicken sausage with brown lentil side dish - recipe.
More...
There is no better illustration for a quick family dinner than this simple dish. It's perfect for those busy weekdays when we need 'to put together something quickly'. All we need to make it in 15 minutes – is only planning ahead. In this case, this means having tinned lentils, some sundried tomatoes in the cupboard and sausages in the freezer.
In this case, this means having tinned lentils, some sundried tomatoes in the cupboard and sausages in the freezer.
Quick family dinner?
I already wrote about the benefits of meal planning in this post: How to master meal planning? And I cannot stop emphasise that it is really worth that 30-60 minutes what putting together a weekly meal plan takes. It is essential if you want to
provide healthy and balanced meals for your family
keep the family food expenses within a budget
reduce time spending in the kitchen or doing shopping
Basically, meal planning makes us more productive and less busy.
Well, I don't want to repeat myself here, if you would like to read more on meal planning these are the related posts for you:
Related posts:
How to master meal planning?
The 6 biggest mistakes in family meal planning
Time-saver Meal Planning Tactics for Busy Mums
Let's go back to our recipe.
If you need a low-calorie but still satisfying recipe this is for you. It's filling, high in protein and fibre and provides at least 2 of your 5-a-day. 
This is a simple recipe for a quick family dinner using a healthier sausage: Heck's Zesty Chicken sausages. Of course, you can use any kind of sausage, but I chose this as they are low in fat and they taste divine. My kids also like it as it's texture is better for them, not chewy at all. All that you need to do is to spray them with a little oil and whack them into the oven until they are baked through.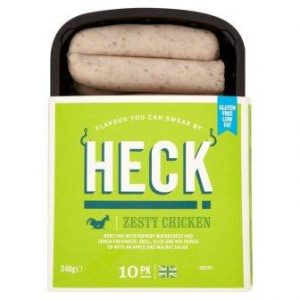 In the meantime, you can make the side dish. It's basically built on a tin of brown lentil. My experience is that we eat less pulses than we should, so this is a good example how to get more of this nutritious vegetable.
Courgettes can be substituted with green beans (fresh or frozen) or spinach leaves.
Get the free pdf file of the
77 Healthy Snacks
x
Zesty chicken sausages with brown lentil side dish – recipe
Total time: 15-20 minutes
Serves: 4
Nutritional info:
Calories per serving: 210; Cah: 19g; Fat: 4g; Protein: 26g
Ingredients:
2 small courgette
1 tinned brown lentil
1 tsp olive oil
about 10 sundried tomato
seasoning
1 box of Heck zest chicken
1 slice of lemon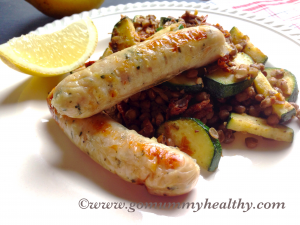 Step 1
Preheat the oven to 180-190 C /350 F / Gas Mark 4. Place the sausages into a roasting tin, spay them with a little olive or sunflower oil and bake them until they are baked through.
Step 2
While the sausages are roasting in the oven, prepare the side dish. Wash and cut the courgettes into 1/2 inch thick slices. Drain the lentil and cut the sundried tomatoes into smaller bites (if necessary). Heat the olive oil in a frying pan, add the courgette and fry for a few minutes until it's cooked through but still has a crunch. Then add the sundried tomato and stir in the lentil. Cook for a few minutes until it warmed through and they are fully combined. Do not cook long because the lentils get mushy and the courgette pieces go soft.
Step 3
Serve the sausages with the lentil mix on the side and offer fresh lemon wedges to them.
Thanks to the lentils this dish is filling and well balanced – a perfect quick family dinner. If you still want to add more carb, a spoonful of mashed potato or oven baked sweet potato wedges would fit the dish very well.  
Get the free pdf file of the
77 Healthy Snacks
x
Comments