No ice cream maker needed.
Nothing complicated.
Just real taste.
One of your 5-a-day.​
The best ice cream and popsicle recipes according to me – tested and approved and frequently requested by my children 🙂
I know it's dessert again. But I just cannot refuse my girls for an ice lolly or ice cream in this lovely weather, so, I have to find healthier alternatives.
As I am always short on time – I am looking at quick and easy recipes again.
And one more thing I do not have an ice cream maker. There are two reasons for this: 1, I just don't have space for one more big kitchen machine; 2, I know I wouldn't use it often. So I use no ice cream maker, only a blender.
I am looking for simplicity but great taste in the ingredients too: natural everyday cupboard items combined with fruits.
What's wrong with commercial ice creams?
Of course, I buy ice cream sometimes and I have my favourites too (like Mackie's Scottish ice cream) but to be honest, 98% of the ice creams just doesn't worth the money. Why? Enough to have a look at the nutritional label to see the answer:
The zero nutritional value
Ice cream could be a good source of calcium, but some of them never saw a dairy product, some of them contain just a very little amount… What gives the bulk then? Fat and sugar.
The high fat content
The best original ice creams were made with goose fat, that gives their creaminess. Cream would be an obvious base for ice creams, but as said two lines above this is very rare. Despite this ice creams are creamy – because of other fats used (like vegetable oils like palm oil) and because of the additives.
The additives
These are what I really do not like to see in ice creams… colourings, emulsifiers (such as diglycerides of fatty acids), stabilisers ( like guar gum, sodium alginate), flavourings.
The high sugar content
Ice creams and ice lollies are really high in sugar. Even one cup frozen yoghurt can contain 40g sugar.
The taste
Probably the texture of commercial ice creams are unbeatable, but the taste is very often disappointing: the lack of dairy, the overwhelmingly sweet taste and the flavourings together result in something very artificial…
Real home-made ice cream doesn't contain more than cream, sugar and sometimes eggs plus – depending the taste fresh fruit, vanilla, chocolate.
Get the free pdf file of the
77 Healthy Snacks
x
Home-made fun – healthy ice cream
There is one more reason in favour of home made ice creams and ice lollies you can make it with your kids and turn ice cream making a fun.
These ice cream recipes listed below all can be made with children – they just love to freeze things at the pre-school or school age anyway. And they can make up new taste combinations too.
8 Healthy ice cream recipes
These recipes are the best examples, that tasty food can be really healthy too.
#1 I love the simplicity of this recipe, however, I would suggest not exceed the recommended serving size (1 serving id about 270 kcal)
Vegetarian, low-fat, gluten-free.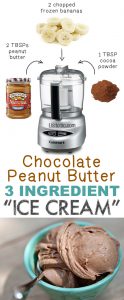 Link to the recipe:
Chocolate And Peanut Butter Ice Cream
#2 There is no doubt that this one is healthy: it contains only fruit. The base here is 2 frozen bananas and you can add whatever fruit you are fancy.
Vegan, low-fat, gluten-free.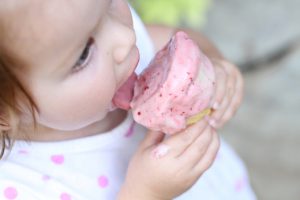 Link to the recipe:
#3 Sorbet is usually a healthier option as it's made with water instead of cream. Only the sugar content can mean risk, but not at this recipe, it contains only 2 tablespoons, honey. If the fruit is really sweet you can omit even this too.
Vegetarian, low-fat, gluten-free.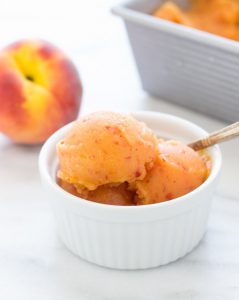 Link to the recipe:
#4 Again, naturally sweetened with bananas but a twist. The result is irresistible.
Vegan, low-fat, gluten-free.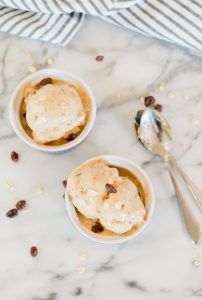 Link to the recipe:
Oatmeal Raisin Cookie Dough "Ice Cream"
Get the free pdf file of the
77 Healthy Snacks
x
#5 These are really light, so the best choice if you are on a weight loss diet. No sugar, no calories at all, still tasty and refreshing.
Vegan, vegetarian, no-fat, no-sugar, gluten-free.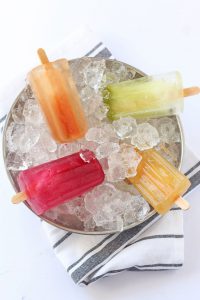 Link to the recipe:
#6 These are not just visually attractive but very tasty too. Honey and granola are optional. Vegan, vegetarian, no-sugar.
Vegan, vegetarian, no-sugar.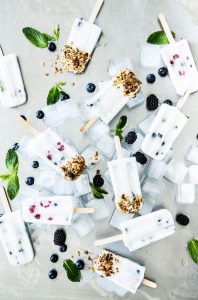 Link to the recipe:
#7 And if you want something really different just freeze your breakfast: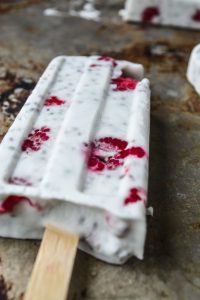 Link to the recipe:
Now, all we need is a hot summer.
Or… I just make these anyway. 🙂
Get the free pdf file of the
77 Healthy Snacks
x
Comments