Rainy days are coming... hurray it's time to cook the two best-ever warming up dishes.
Lovely, delicious and easy family recipes for the day when salad just doesn't make it...
When the weather becomes rainy, chilly and bleak I can't stop myself thinking of two classic dishes: chicken broth and apple pie. I just need them to warm me up.
Both dishes reminds me of my mum: chicken broth was a fortnightly regular on the family table and I cannot imagine better food to warm me up. My mum always says that chicken broth is the best remedy for cold and flu and she truly believes that it is on the same level – if not higher – than any vitamin C supplement. So, here I am sharing my slow-cooker version of this healing food.
And what would be a better company for chicken broth than a heavenly crunchy apple pie? This recipe is also from my mum, to be exact, from her old red and white checked cookbook. There is no autumn without apple picking – which is equivalent with this recipe. And I have to confess that until ten years ago I knew only one apple pie, what my mum taught me and I have been making for decades. Just to give a clue: the apple pie for me about 3-5 cm thick apple filling (just grated no pre-cooked) between two 3-5mm thick pastry.
So this is the recipe for the "real" apple pie for me and obviously, I am biased. But every time when I bake it for someone, she or he is begging for the recipe, so I thought I share it with you.
And hey, this is just so quick and easy that it perfectly fit into this blog.
If you need more recipes...
Get your free copy of the
6 FAMILY MEAL IDEAS
TO MAKE YOUR EVENINGS
STRESS-FREE
Here are the recipes, pair them or make them independently, you won't regret it 🙂
Apple pie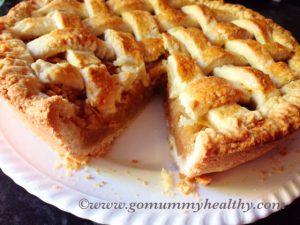 Serves: 6-8
Total time: 60 minutes (30 minutes baking time)
Ingredients:
400g plain flour (or 300g plain and 100g wholemeal)
200g butter
1 egg +1 egg for the egg wash
1-2 tbsp milk
70g caster sugar or equivalent sweetener
Filling:
1,5 – 2 kg apple peeled and grated – cooking apple are perfect, but any apple is good
cinnamon
sugar or sweetener to taste – the amount depends on the sweetness of the apple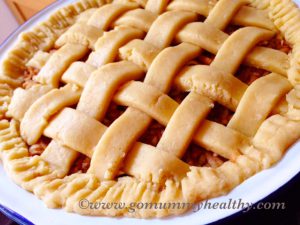 Step 1
Put the flour, butter and sugar into a food processor and whizz until it resembles fine breadcrumbs. Then add the egg and milk and whizz the dough again to combine. Now, using your hands make a ball, flatten down a little bit and divide into two.
Step 2
Peel and grate the apples, mix it with the cinnamon and sugar – if using.
Step 3
Choose a medium size deep round or rectangular tin and line it with baking paper. I usually roll out the dough on the baking paper and place it in the tin together. Roll out the dough about 4-5mm thick. Do not worry if there is a crack or hole, just fix it with a little bit of extra dough. Add the apple and cover with the other half rolled dough.
Step 4
Eggwash and using a fork make little holes for the steam to escape. Bake it on 180C / 350 F /Gas Mark 4 for 30-40 minutes until golden.
Serve topped with custard cream, vanilla ice cream or with greek yoghurt – but it is just delicious itself as it is with a cup of tea…
If you need more recipes...
Get your free copy of the
6 FAMILY MEAL IDEAS
TO MAKE YOUR EVENINGS
STRESS-FREE
Slow cooker chicken broth with barley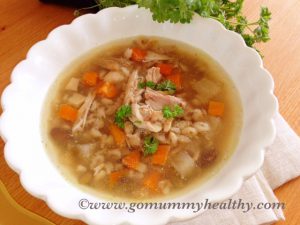 Serves: 6-8
Total time: 6 hours on low
Ingredients:
1,5 kg chicken cut into pieces
1 parsnip
3-4 carrots
1 leek
1 small kohlrabi or turnip
1 medium onion
1 garlic clove
2 celery sticks
1/2 cup pearl barley
1 chicken stock cube or 2 l home-made chicken stock
1 pinches turmeric
4-5 black peppercorns
salt
1 cup garden peas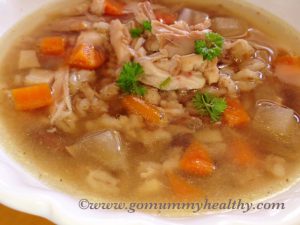 Step 1
Peel and cut the vegetables: finely cut the onion and leek, cut the parsnip, carrot, celery and kohlrabi into even cubes, leave the garlic clove in whole. Place all the vegetables -except the peas – on the bottom of the slow cooker, add the barley, chicken pieces, seasoning and stock. Add enough water if needed to raise the stock level over the chicken pieces. Cook on low for 6 hours.
Step 2
Add the peas 30 minutes before the end of the cooking time. When the soup is cooked, I removed the bones – but it's optional.
It is the best still hot, I love it topped with some hot chilli. This soup is filling thanks to the barley but if you would like a lighter version just omit the barley.
If you need more recipes...
Get your free copy of the
6 FAMILY MEAL IDEAS
TO MAKE YOUR EVENINGS
STRESS-FREE
Comments