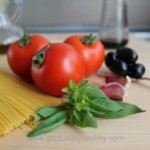 I always look for healthy recipes but sometimes I come across recipes which look attractive – just they are not so healthy.
It is easy to make a recipe healthier, you just need to know what to swap to a healthier ingredient.  This is not just for advanced cooks.
I start with a confession: I am that kind of person, who is not able to follow a recipe from step to step. I always change the proportions, swap ingredients and omit a few things. As a result, I never put the same food twice onto the family table. I always try to make things healthier and this is not that complicated as it looks like.
You can easily spot the problematic ingredients in a recipe: fat, salt, sugar.  Think about not just the added but the hidden fat/salt/sugar content too: for instance if the recipe calls for cured bacon, soy sauce, stock – these contain salt already, so be careful with the seasoning. Same with sugar: ketchup and other ready-made sauces, juices, dried fruits and sweet fruits/vegetables already contribute to the sweet taste you need less sugar.
Nearly every recipe can be transformed into a healthier version without causing a too big alteration in taste. I would recommend starting with smaller swaps in a recipe and you can move forward next time. The main rule what never causes any problem: more vegetables, less meat.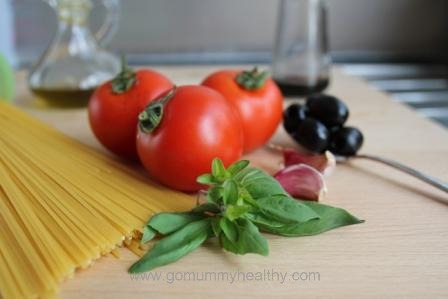 Here are tips how to make healthier swaps in recipes
– Reduce fat
Reducing fat is easy in savoury meals: soups, pies and stews deliver the same taste cooked with less fat, so you can cut down the added fat by 50%. For pan-fried meals use oil spray (like Frylight 1 cal oil spray) so you can add only the needed amount and no more.  Remember that meat and oily fish and cheeses contain fat even if it is not visible. In cakes, you can reduce butter or margarine adding ricotta or yoghurt.
– Use more veg
You can raise the amounts of vegetables by one-third easily in recipes. You can add more vegetables from the ingredients list, but you can add other vegetables what you have at hand. It is a good opportunity to use up left-over raw or frozen vegetables. Take into account the cooking time needed for the vegetables: carrot, parsnip, need more time to cook, cauliflower, tinned beans, chickpeas need only 5 minutes, while courgette, green bean, peas need only 2-3 minutes to cook. 
– Less meat
The amount of meat can be reduced by one-third in recipes easily without changing the flavour. We do not need a lot's of meat in our diet – special red meat should be limited to 1-2 occasion per week. There are very good alternatives for meat – like adding more pulses to our dishes or using Quorn which is a very tasty and cheap alternative for meat.
– Swap to healthier fat
Substitute butter, lard, shortening, and margarine with olive oil, sunflower oil, rapeseed oil or coconut oil. Sometimes you need some of the original fat because of their taste – for example, you need some butter in mushroom dishes, – in this case substitute partly the butter with a healthy oil.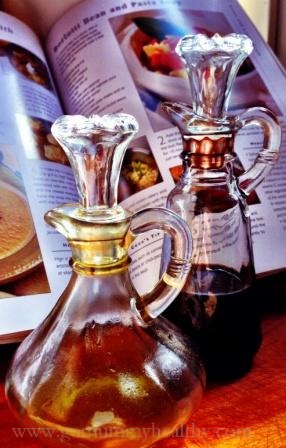 – Reduce sugar
Reduce sugar or leave it out completely if it is possible. And in most of the cases it is possible. You can use sweetener to substitute partly or completely the sugar in the recipe. Or, what I prefer, use fruits and vegetables as a sweetener: mashed banana, date syrup, dried fruits works well in cakes, beetroot and carrots also add a sweet taste (and fibre and other healthy nutrients) to the dish. Or you can trick your sweet sense using cinnamon or vanilla: these make us taste sweet without adding sugar.
– Use lean meat
Hidden fat in meat is a bigger problem, then the added fat. As it is not visible, we are prone to ignore it however, this provides a huge amount of our calorie intake. Fat on a slice of bacon is visible, so easy to remove it, but hidden fat is avoidable only if we choose lean cuts. What can you do? Check the fat content on hamburgers and minced meat. Quorn is a good low-fat alternative for minced meat in some dishes – like spaghetti bolognese or pies. Limit eating salami and sausages and choose lean ham instead.
– Skin chicken
Easy to reduce fat in most of the chicken recipes, just remove the skin. However, it is better to roast the chicken with skin and remove it before eating to avoid drying out the poultry.
If you need more recipes...
Get your free copy of the
6 FAMILY MEAL IDEAS
TO MAKE YOUR EVENINGS
STRESS-FREE
– Reduce salt
Most of the recipes gives too much amount of salt. I would recommend to reduce the salt – or omit it completely. Do think your meal will be bland? Balance out adding herbs and spices. If you still find that some seasoning needed, add salt to the dish after cooking: you will need less salt.
– Use skimmed milk
Swap whole milk – or in some cases cream – to skimmed milk or unsweetened almond milk.
– Use alternatives for cream
Instead of cream use light soft cheese or natural live yoghurt in soups or sauces. Most of the cases it does not mean any noticeable change in the flavour, but less calorie and saturated fat in the meals. 
– Use light cheese
Swap cheddar for a low-fat cheese.  You can use reduced fat alternatives or cheeses naturally low in fat – like Feta, Parmesan, Goat cheese, Mozzarella. Ricotta, cottage cheese and quark are low-fat soft cheeses.
– Add extra fruit
Add extra fresh fruit to sauces, cakes and salads. The rule again: adding extra one-third does not change the taste and texture dramatically, but makes the dish even healthier and tastier. A bit of extra fibre, vitamins and antioxidants can make you more energised. If you think that, the juice coming from the fruit would not be good, squash out/ sieve the 
– Use wholemeal
White flour can be swapped partly or completely to wholemeal flour. Using wholemeal flour, add a little bit more liquid and baking powder, as wholemeal flour is heavier than the white one. Wheat or oat bran also can be added to cakes – to add more fibre. Wholemeal pasta and rice also can be used instead of white ones – just take into account that they need a bit longer cooking time. White bakery products easily can be swapped to whole grain.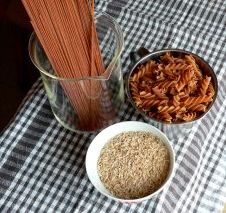 – Reduce the carb
The amounts of potatoes, pasta and rice can be reduced in recipes. Balance out adding more vegetables like sweet potatoes, beans, greens, carrots etc, so they stay filling and rich, just healthier. Sweet potatoes, pumpkin, butternut squash are good alternatives for potatoes. Rice and pasta can be swapped for another nutritious grains like barley, millet or quinoa.
– Avoid deep frying
Fried food not just high in calories, but resources show a correlation between cancer and diet rich in deep fried food. My personal opinion that deep frying takes away the real taste of food and make us addicted to an oily crunchy batter. So I would recommend to oven roast food instead of deep frying it.  Chips, breaded meat and fish can be made in the oven. 
If you need more recipes...
Get your free copy of the

6 FAMILY MEAL IDEAS
TO MAKE YOUR EVENINGS
STRESS-FREE
Comments