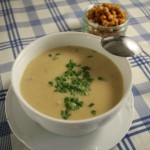 If you don't have an idea what to do with leftover roast chicken, check out this recipe and you can make a healthy and filling soup in just 20 minutes.
Its simplicity makes it so attractive, you are going to love this one.
Glorious leftovers
Nothing is so glorious than putting a lovely golden brown roast chicken onto the family table on Sunday.
After a lovely chicken roast lunch, there is always some leftover meat. I don't know how it is in your family, but in mine, everybody goes for the legs and the breast, but none of us is really keen on the wings and back part.
However, it would be a shame to throw away that juicy a lovely meat, especially, that it can be transformed into a filling a healthy dinner in no time on Monday. And this is a big help after a busy weekday.
So keep all the skin, bones and back/wings and make magic on Monday.
If you need more recipes...
Get your free copy of the
6 FAMILY MEAL IDEAS
TO MAKE YOUR EVENINGS
STRESS-FREE
Creamed chicken and leek soup – recipe
Total time: 20 minutes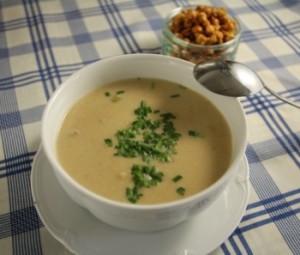 Ingredients:
1 tbsp butter
1 tbsp olive oil
2 leeks
1 big or 2 medium potatoes
2 garlic gloves
750 ml chicken stock or water
3 tbsp light cream cheese
leftover roast chicken meat + bones/carcass
Fresh parsley and/or chives to garnish
Step 1
Peel the potatoes and cut them into small cubes. Slice finely the leeks and peel the garlic gloves.
Step 2
Heat the butter and oil in a big pan, add the leeks and fry on low heat for 3-5 minutes stirring regularly. Then add the crushed garlic and cook for 1 minute before adding the potatoes.
Fry the potatoes for 5 minutes.
Step 3
Add the stock or water to the soup, then add the chicken carcass and the chicken meat. Bring to the boil and cook until the potatoes are tender.
Step 4
When the potatoes are cooked, remove and discard the bones/carcass. If you prefer your soup chunky you can remove half of the potatoes into a bowl while you purée the rest of the soup with a hand stick blender. Add the cream cheese and combine. Put back the potatoes into the pan, stir and serve with chopped fresh parsley and/or chives. Offer with fresh sourdough bread or roast chickpeas.
If you need more recipes...
Get your free copy of the
6 FAMILY MEAL IDEAS
TO MAKE YOUR EVENINGS
STRESS-FREE
Comments