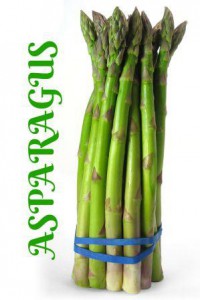 I love asparagus, – it is the best ingredient for a quick dinner – and it is light and delicious too.
I also appreciate the fact that asparagus recipes usually quick recipes, as asparagus do not need a long cooking time. So it is a perfect match to my three expectations: quick, light and family friendly. 🙂
Asparagus in season
I am so glad that asparagus season is here, asparagus – along strawberries – mean the beginning of summer for me.
Summer cooking is just not exist without asparagus recipes involved. 🙂 Steamed, cooked, blanched, raw or grilled – it does not matter, the little green spears can be transformed into a luxurious side or main dishes just in a few steps. They are so tasty, that you need to add just a few extra ingredients to make it a meal.
In my two recipes below asparagus got the main role – with just a few added ingredients. I think, asparagus well deserves to be in the centre of attention as its taste is just something amazing.
Asparagus your ally in weight loss
Low in calories but high in fibre
Asparagus is extremely low in calories – about 20 cal per 5 spears – and at the same time is really high in fibre. Perfect in weight loss.
Anti-Inflammatory and Anti-Oxidant Benefits
Asparagus has an anti-inflammatory properties and a high level of antioxidants which may lower the risk of diabetes.
Antiaging
Asparagus may slow the ageing process, folate and B12 in asparagus may result in a better performance in response speed and mental flexibility in older adults.
Anti-cancer benefits
Asparagus provides a wide variety of antioxidant nutrients, including vitamin C, beta-carotene, vitamin E, and the minerals zinc, manganese, and selenium. It may help fight or protect against certain cancers, including bone, breast, lung and colon cancers
Detoxifying
Asparagus is a great digestive support, it provides relief from digestive discomfort due to the high amount of fibre, protein and a special dietary fibre called inulin. Inulin is prebiotic and associated with improved digestion. Asparagus is also a natural diuretic: can help rid the body of excess salt and fluid. This makes it good for people suffering from high blood pressure and oedema – and for those are on a weight loss or detoxifying diet.
High in folate
Asparagus contain a significant amount of folate, which is really important for mum-to-be before and during the pregnancy.
If you need more recipes...
Get your free copy of the
6 FAMILY MEAL IDEAS
TO MAKE YOUR EVENINGS
STRESS-FREE
Two asparagus recipes
Asparagus and smoked salmon rolls
This is a quick recipe but it is surprisingly filling, my favourite weight loss recipe at the moment 🙂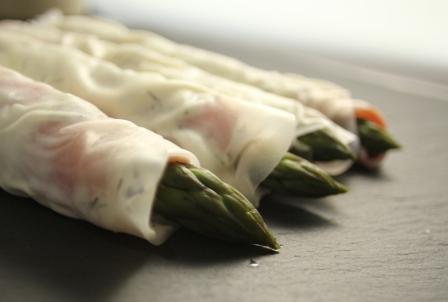 Total time: 15-20 minutes
Ingredients:
12 rice flour pancakes (for spring rolls)
150g smoked salmon (trimming are fine too)
100g light soft cheese
a handful of fresh dill
12 asparagus
Olive oil
Mustard sauce
40 ml olive oil
1 tbsp Dijon mustard
2 tbsp Greek yoghurt
salt and freshly ground black pepper
Step 1 
Snap off the tough ends of the asparagus. You can cook them – in boiling water for 3-4 minutes, but I prefer grill them in a griddle pan as this way they develop an extra smokey flavour. I just brush them or spray them with a little olive oil and grill them in the hot pan for 3-4 minutes.
Step 2
Mix the light cream cheese with the finely chopped dill and – cut the salmon slices to the size of the rice flour pancakes.
Step 3
Soak the rice pancakes according to the package instructions for 10-20 seconds and place them to a clean wet tea towel. Spread 1 tbsp cream cheese on the pancake, place the salmon slice on top and placing one asparagus in the middle roll up the pancake.
Step 4 
Mix all ingredients of the mustard sauce in a small bowl and serve the asparagus rolls with it.
If you need more recipes...
Get your free copy of the
6 FAMILY MEAL IDEAS
TO MAKE YOUR EVENINGS
STRESS-FREE
Grilled asparagus with sage and eggs
This is my favourite asparagus recipe, there is no asparagus season without making this simple but delicious recipe. Well, the truth is that I use this recipe when my time is limited to put together a dinner (or light lunch) or I am just simply not in the mood to cook.
Total time: 15-20 minutes
Ingredients:
2 bunch of asparagus
4 eggs
1 tbsp butter
a handful of fresh sage or tbsp dried sage
Step 1
Pre-heat the oven to 200C/ fan 180C / gas mark 6. Line a baking tray with baking paper or kitchen foil.
Snap off the tough ends of the asparagus and place them on the baking tray in a single layer.
Step 2
Cut the cold butter into small pieces and scatter over the asparagus. Tear the fresh sage into small pieces – or cut them into thin strips and scatter over the asparagus.
Bake the asparagus for 10-12 minutes until the sage becomes crunchy. Make sure that the asparagus tips do not burn.
Step 3
In the meantime boil water in a pan and put the eggs into the boiling water for 3-4 minutes. Then place them into egg cups and serve with the warm asparagus.
You can offer toasted sourdough bread and mustard to this dish – but I love it as it is. Probably the best way to enjoy asparagus – the simple thing are the best 🙂
If you need more recipes...
Get your free copy of the
6 FAMILY MEAL IDEAS
TO MAKE YOUR EVENINGS
STRESS-FREE
Comments