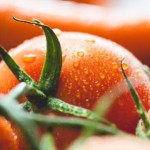 If you want to cut down processed food, ditch jarred pasta sauce. Just read the ingredients list and you will understand.
Well, I know time is gold for you, so here is a really healthy and easy pasta sauce – ready in 15 minutes. Make a big batch and you can make at least 3 meals using this sauce.

The healthy pasta sauce recipe
I know how convenient is to add sauce to your pasta from a jar, I used to buy them saying I can compromise on this in an emergency… until.
Until I realised that I can make an even better pasta sauce myself in no time – using healthy ingredients, no sugar, no acidity regulator, no preservatives.
Well, I've never understood why people buy jarred white sauce? Basically, you need only butter, milk and flour and about 5 minutes to make it. What can be the reason to buy a jar of white pasta sauce full of additives for £1.80 when you can make your own in five minutes for about 20p? I think because people are convinced this is something very complicated or time-consuming and they cannot make it…
Same for tomato sauces: one jar of tomato pasta sauce is around £1.50-1.80 while you can make your own for 50p-80p.
For this recipe, I am sure that you always have the main ingredients in your cupboard, so you do not even need to do shopping:  tinned tomatoes – garlic – onion – herbs (fresh or dried) – and a little olive oil. The most important thing about this recipe: use good quality tomatoes. I like the Italian tinned tomatoes, as they sweet and very tasty. I made this sauce using fresh tomatoes a couple of times, but only when I got delicious, meaty, sweet tomatoes – otherwise, the sauce is watery and bland.
Tomato-based pasta sauces are healthier than the cream-based sauces: less fat obviously, more fibre and they are high in lycopene.
∗∗∗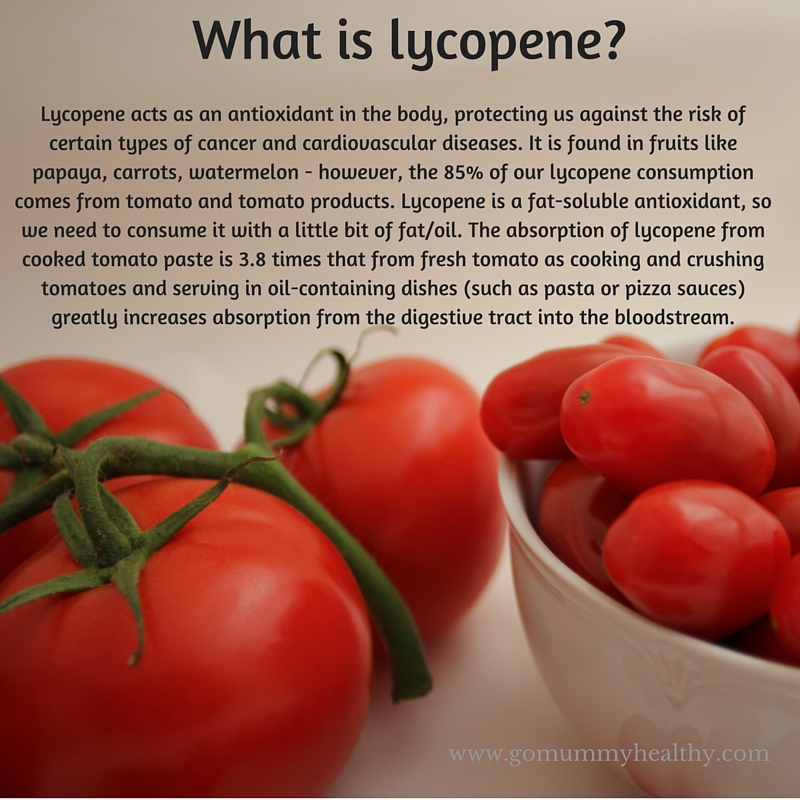 Lycopene acts as an antioxidant in the body, protecting us against the risk of certain types of cancer and cardiovascular diseases. It is found in fruits like papaya, carrots, watermelon – however, the 85% of our lycopene consumption comes from tomato and tomato products. Lycopene is a fat-soluble antioxidant, so we need to consume it with some kind of fat. The absorption of lycopene from cooked tomato paste is 3.8 times that from fresh tomato as cooking and crushing tomatoes and serving in oil-rich dishes (such as pasta or pizza sauces) greatly increases absorption from the digestive tract into the bloodstream.
∗∗∗
Related link: Healthy no-sugar ketchup recipe
The difference is huge between ready-made and home-made sauces, the last one is tasty, vibrant – and you can make a big batch and freeze it. This recipe is a good example how you can save time for yourself without relying on ready-made food from the supermarket all the time. Cook it once and use it in different meals.
Actually, you can use the same recipe
adding the healthy pasta sauce to pasta
spreading on pizza base as  healthy tomato sauce
as a dip with tortilla chips – much healthier than the shop-bought ones
as a base for Italian-style soups and meals.
Are you a constantly tired Mum?
Follow this free action plan
to get your energy back!
The Best 7 Nutritional Swaps To Be an Energetic Mum
With a printable reference.​
My easy and healthy pasta sauce – recipe
Serves: 4
Total time: 15 minutes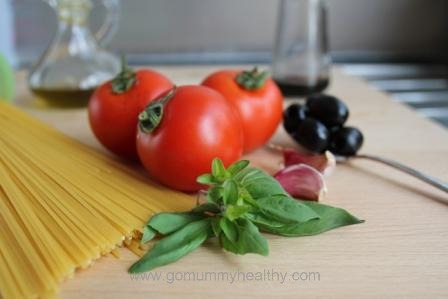 Ingredients:
400g good quality chopped tomatoes or 500g fresh tomatoes peeled
3 gloves of garlic
1 small onion
1 tbsp olive oil
1 small bunch of fresh basil and/or oregano, or 1 tsp dried basil and/or oregano or Italian herb mix
1 tbsp balsamic vinegar
Step 1
Peel the onion and chop finely. Chop the herbs roughly and peel the garlic.
Step 2
Heat the oil in a saucepan, add the onion and fry it for a minute before crushing the garlic in. Fry the onions for a further 30 seconds, then add the chopped tomatoes, stir in the herbs and cook on medium heat about 8 minutes. Do not cover, just let the sauce reduce a little bit. (It needs a bit more time if you are using fresh tomatoes.)
Step 3 
When the sauce is thick, puree it using a stick blender. Stir in the balsamic vinegar and season to taste.
You can add the sauce to spaghetti and scatter with cheese and fresh basil leaves – do not underestimate its simplicity, it is heaven! This sauce also works well with filled pasta like Ravioli or Tortellini.
But if you want to add extra flavour, here are a couple of ideas:
Extra veggie pasta sauce
Add leftover cooked carrots, sweet potatoes or grilled pepper to the sauce before puree it. You will get a richer, sweeter sauce – a big favourite among children.
Spicy pasta sauce
Add one chopped fresh red chilli or dried chilli flakes and 1 tsp smoked paprika to the sauce.  Serve it with grated parmesan on top.
Creamy and rich vegetable pasta sauce
Add 1 medium grated courgettes and 1 small diced aubergine along the tomatoes, and cook until the aubergine melts into the sauce. One of my favourites, it is great to add extra veg and fibre to your dish.
Penne with mackerel and chilli
Add 1/2 tsp chilli powder to the sauce along the tomatoes, when it is cooked and pureed add 150g smoked mackerel fillet torn into small pieces. Stir and offer with cooked Penne Rigate.
Pasta with tuna and sweetcorn
When the sauce is done stir in 180g tuna from a can, and about 100g cooked sweetcorn. This is also good with pasta with a body like Fusilli or Farfalle.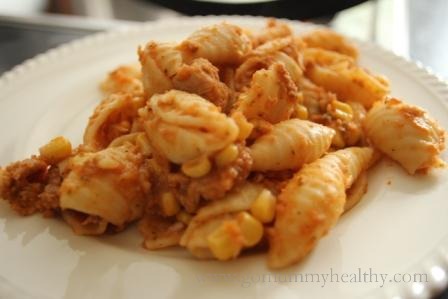 Grown-up pasta
Add 3 anchovies to the olive oil before adding the onions, and later 1/2 tsp chilli powder along the tomatoes. Offer on Conchiglie or Orecchiette scattered with halved olives and grated Parmesan.
The number of versions is endless, have a look into your cupboard and make up your own version: you can add sundried tomatoes, grilled peppers, artichoke hearts, ham, salami, chorizo, fried mince meat… whatever you have at hand.
Are you a constantly tired Mum?
Follow this free action plan
to get your energy back!
The Best 7 Nutritional Swaps To Be an Energetic Mum
With a printable reference.​
Use this healthy pasta sauce….
As pizza sauce
The same healthy pasta sauce can be used as a pizza sauce too. Just spread it over the pizza base, add mozzarella or you favourite toppings and bake it. These recipes are all good to clear your fridge: use up leftover cheese, ham, salami, vegetables – like onion, spinach, pepper, mushroom. Again, you can experiment here – even better if you ask your children to make their own pizza toppings. It is really fun. My little girls make smiley faces or animal faces on their pizza, and they love making it.
As a dip
 Just cook the sauce a bit further stirring regularly, it becomes thicker – and it can be used as a dip. Add extra fresh chopped basil and 2 tbsp grated parmesan to the cooked sauce and offer with cheese sticks, breadsticks or tortilla chips.
As a base for soups
This healthy pasta sauce can be used as a base for Italian-style soups too. If you are in a hurry, make this filling minestrone soup quickly:
Quick Minestrone soup
Serves: 4
Total time: 15 minutes
Ingredients:
1 portion of the easy and healthy pasta sauce (recipe above)
1 medium courgette
1 medium carrot
400g tin of cannellini beans
700 ml chicken or vegetable stock
Angel hair pasta or fresh tortellini
To serve: grated cheese and 4 slices of sourdough bread
Step 1
Add about 700ml chicken or vegetable stock, grated carrot, diced courgette and drained cannelloni beans from a tin to a pan and cook it for 10 minutes.
Step 2
Add angel hair pasta or fresh tortellini to make a rich soup. Cook until the pasta is ready.
Step 3
Serve topped with 1 tbsp grated cheese and toasted sourdough bread.
Quick, healthy soup and perfect for dinner. Of course, you can add other quick-to-cook ingredients like leftover cooked or roasted chicken, diced ham or a few slices of chorizo, tinned or frozen sweetcorn, green beans…
Are you a constantly tired Mum?
Follow this free action plan
to get your energy back!
The Best 7 Nutritional Swaps To Be an Energetic Mum
With a printable reference.​
Comments