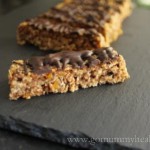 We, busy mums need energy quickly and energy bars or muesli bars are so handy. These no-bake easy energy bars are ready in 10 minutes and keep well in the fridge for 5 days. And the best part: you can customise its favour according your taste.
Muesli or energy bars are so handy, but the shop bought granola or energy bars do not convince me. If you take your time and compare the muesli and the muesli bar from the same brand you will see the difference: there are usually more added sugar and additives. These are needed to get the right consistency and a longer shelf life for the product.
Well, we do not need to rely on shop bought muesli bars anymore: these easy energy bars are really quick to make and I guarantee that you will love them. They are perfect not just a snack, but you can eat them as a gram-and-go breakfast on those busy mornings. Or you can take one to the gym and eat as a healthy post-workout snack.
Why Easy energy bars so good for busy mums?
Okay, here are the nutritional values of the easy energy bars first:
– they are high in fibre: oats, dried fruit and ground flax seeds deliver the healthy fibres: a blessing to your digestive system
– slow releasing energy help to keep your blood sugar level even and feel fuller for longer
– high in protein: oats and peanut butter provide high plant based protein which is needed to energise your for the day or to recover after a workout
– no added sugar: the naturally occurring sugar provides enough sweetness to enjoy the Easy energy bars without adding any sugar or artificial sweetener
– they are filling, about 200 calories per bar – so one slice makes a snack or – with a cup of latte and adding some fresh fruits – an energising breakfast
Plus, I find them… khm… tastier than the shop-bought bars. They are really delicious and just a little chocolate drizzled on top put them into the luxury category. I love them with dried apricots (they are rich in iron and dietary fibre), but you can add raisins or other chopped dried fruit, perhaps a little grated chocolate instead of coconut – if you do not mind the extra calories.
Be careful with nut allergies, though.
Oh, writing about them… I feel I have to make a portion…right now.
Energy bar – recipe
Total time: 10 minutes + chilling time
Makes: about 9 bars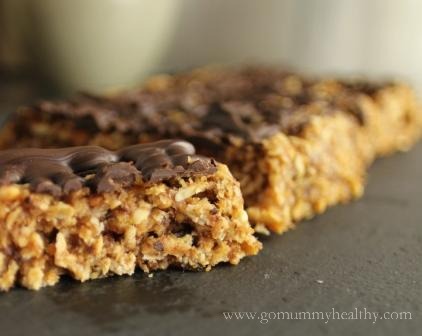 100g rolled porridge oats
8 pitted dates
115g peanut butter or almond butter
1/2 tsp vanilla extract
2 tbsp ground flax seeds
2 tbsp dried apricot or desiccated coconut or both
25g dark chocolate
Step 1
Make a date syrup: Put the stoned dates into a food processor or liquidiser, add 70 ml water and whizz until you get a smooth paste. Finely chop the apricots.
Step 2
Mix the date syrup with the vanilla extract and peanut butter, add the oats, flax seeds, chopped apricots and combine. With wet hand form an 8*18 cm rectangle on a flat sheet, cut about 2cm wide bars, so you get 9 bars.  Chill it in the fridge. Melt the chocolate in a steam bath or in the microwave oven and drizzle the chocolate onto the bars and return them to the fridge to firm up. Store the bars in an airtight container in the fridge and consume within 5 days.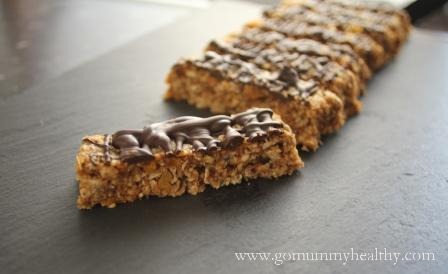 ∗∗∗∗∗
More recipes?

Comments