A crunchy, freshly baked bread is a dream. But who has time to bake a bread at home nowadays?
This no-knead bread recipe is perfect for busy families. It takes only minutes to mix the ingredients in the morning – you need only a bowl and a wooden spoon, – and it's ready to bake in the evening. And the result?
And the result? A crunchy, tasty and soft bread what is healthy too.
Why should we eat home-made bread?
Home-made bread is very different to the industrial bread on the supermarket's shelves. I know that the taste of block bread is familiar – as we all were brought up on them. But it does not mean that they are the best for us. Lot's of people is suffering from digestive problems nowadays and turn to gluten-free alternatives – even if they are not gluten intolerant or coeliac (only about 1 % of the population is suffering from this disease and further 4-5 % are advised to be careful with gluten.) I am convinced that it is because they cannot digest industrial bread containing additives and preservatives. I wrote about this subject earlier in this post:
Should bread be really excluded from a healthy diet?
But do we have time to bake our own?
Usually the answer: no way. And I understand this.
Our life is just so busy – especially, with children. However, there are a few things what we can do.
a) First, we can look for good quality bread – like artisan bread. Little artisan bakeries offer a wide variety of bread and they sell real hand-made bread. Look for brown and seeded bread.
b) Then we can invest in a bread making machine. Making your own bread means that you can take control and use only beneficial ingredients – no additives. Bread making machines are really convenient, they usually come with a timer, so you can set it up and wake  up in the morning for the lovely smell of freshly baked bread.
c) Mix the two and bake bread at home occasionally. If you plan ahead and use easy recipes like this home-made seeded bread, baking is easy-peasy. Mix the ingredients in the morning or the night before and leave it to prove while you are at work or overnight.
If you need more recipes...
Get your free copy of the
6 FAMILY MEAL IDEAS
TO MAKE YOUR EVENINGS
STRESS-FREE
It's no secret that our family eats almost exclusively our own home-made bread. Making bread home regularly is not a pain if you can make it a habit. We bake two big loaves fortnightly and we keep it sliced in the freezer. When we need bread just pop it into the toaster and it's like freshly baked bread. This way we always have good quality – and healthy – bread at hand and nothing go to waste. We've worked out our own recipe in the last 7 years – testing different types of flour and recipes – and we just love our home-made bread. To be honest, eating our own bread for years now it's a pain for us to eat the shop bought fluffy block bread when we are out.
No-knead, home-made seeded bread recipe
This brown seeded bread is an easy start to bake your own, it does not need kneading which is usually a hard work for a woman. (Of course, you could use a stand mixer, but a normal bread dough put your mixer to test and it takes more time and attention.)
Plus it is fool-proof, just a few minutes mixing then let it proving, then bake.
A few tips to succeed
Do knead, just combine all ingredients
Do not give more yeast as given in the recipe, that doesn't improve the result, quite the opposite
If it's a hot day, 12 hours proving is enough, on cold days, it is closer to 24 hours
The water content of this bread is fairly high that's why it needs longer baking time on high temperature. It shouldn't be pale when you take it out from the oven otherwise, it is surely underbaked. Tap it on the base, if it sounds hollow, then it is baked through
Start the baking process on the maximum heat what our oven can do, this makes the bread rising and improving little air pockets
No-kneading brown seeded bread
Preparation time: 10 minutes
Proving time: 12-24 hours
Baking time: 45 minutes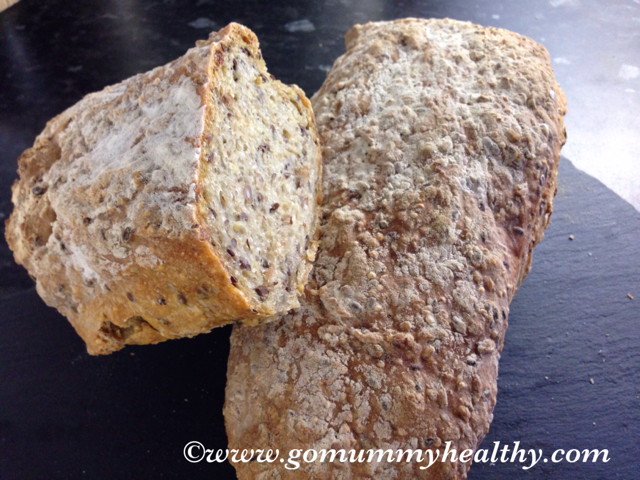 Ingredients for one loaf:
200g strong wholemeal flour
150g strong white bread flour
30g linseed
30g sunflower seeds
2-3 tbsp millet (optional)
1/2 tsp salt
1 tsp honey
5g fresh yeast
350ml lukewarm water
Step 1
In a big bowl mix the dry ingredients: the white and the wholemeal flour, the linseed, the sunflower seed, millet and the salt. In a cup dissolve the yeast in 50 ml water and add the honey. Add the yeast and the rest of the water to the dry ingredients and stir it with a wooden spoon quickly (make sure there are no dry lumps). Cover the bowl with a cling film or place it into a big plastic bag and leave it to improve for 12-24 hours.
Step 2
If you have a long-shaped baking tin, line it with baking paper. Flour work surface and tip the dough onto it. It is a sticky dough but it's okay, just give it a quick massage pressing out the air and form a long shape. Place it into the baking tin, cover with a clean teatowel  and leave it to double in size (about 30 minutes). Meanwhile, heat the oven to 240C.  Place the dough into the hot oven and bake it for 10 minutes before reducing the temperature to 200C.  After 30 minutes baking carefully tip the loaf onto a wire rack, pull off the baking paper and put it bake in the oven for a further 5-10 minutes until the loaf is golden and sounds hollow when you tap it on the base. Transfer to a wire rack and leave to cool completely.
If you need more recipes...
Get your free copy of the
6 FAMILY MEAL IDEAS
TO MAKE YOUR EVENINGS
STRESS-FREE
Comments