Just imagine that you arrive home after a busy day and you are tempted to push some ready meal into the oven...
But then you remember this easy and healthy family dinner recipe - and it takes even less time than the processed food.
It's light, filling and packed with good nutrients and it's done within 15 minutes. And, as always, it is a perfect family dish.
So, family dinner sorted 🙂
Whenever I ask my new subscribers what they would like to see on my blog the answer is clear: quick and easy family meals.
Sometimes I just share a collection of recipes I find online – but now I share you one of my favourite recipes: a really quick and budget-friendly pasta dish.
It's packed with good nutrients and it's done within 15 minutes. And, as always, it is a perfect family dinner.
We use dried wholemeal pasta in this recipe which is a good slow-releasing carb, it makes you fuller for longer and helps you to avoid sugar spikes. Mackerel delivers protein and omega-3 fatty acids, the last one promotes healthy heart, improved skin and hair condition and maintain a healthy nervous system. Try to buy soft smoked mackerel filets to this recipe with no bones in them.
Then we add a colourful selection of vegetables: red tomatoes, yellow sweet corn, green broad beans (as alternative green peas, green beans or edamame beans can be used) and spinach. The beans and spinach can be fresh or frozen – even leftovers can be used in this recipes. So if you have leftover cooked or steamed beans, peas, carrots just add them to this dish. Also, fresh cucumber cubes can be added.
The creaminess of the pasta salad comes from natural live yoghurt – supporting the healthy gut flora at the same time. The mustard and the lemon juice highlight the smoky taste of the mackerel. Ground pepper helps the absorption of the nutrients. And all these only 281 calories per serving.
If you need more recipes...
Get your free copy of the
6 FAMILY MEAL IDEAS
TO MAKE YOUR EVENINGS
STRESS-FREE
Family dinner sorted
This is the first time that I made a video of live cooking. I know it's not perfect, but I think that it's just easier to illustrate this way how quick and easy to make this dish. And this is not a studio recording, you can see my old wooden spoon and the really unprofessional mixing… pasta pieces falling out of the dish. Aaah… But anyway, I don't make these videos and recipes for chefs – these all are for real mums.
So, mum, you do not need to be a master chef to make a healthy and delicious meal for your family
Especially not when you know a busy and tiring day behind you and all that you and your family need is a good meal and putting your feet up.
Mackerel pasta with vegetables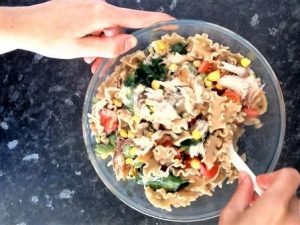 Total time: 20 minutes
Serves: 4
Nutritional info:
Calories: 281; Cah: 46g; Fat: 7g; Protein: 19g
Watch this video how to make it:
Ingredients:
200g Wholemeal pasta (Fusilli or bow or something similar)
160g Smoked mackerel
140g Sweet corn (one small tin drained)
140 g edamame beans / green peas or broad beans (steamed and skin peeled)
100g (about a handful of) Baby tomatoes or chopped salad tomatoes
a handful of fresh (or frozen ) spinach leaves
3 tbsp natural live yoghurt
1 tsp Dijon Mustard
Freshly ground black pepper
Freshly squeezed lemon juice to serve
Step 1
Cook the pasta according to packet instructions and steam the beans. (If using peas or edamame beans just add them to the pasta for the last 3-5 minutes of the cooking time.)
Step 2
In the mean time tear up the mackerel into smaller pieces and combine the yoghurt, mustard, mackerel, all the vegetables. Finally, add the cooked pasta and freshly ground pepper and gently fold them together. Serve with freshly squeezed lemon juice.
This dish can be prepared a few hours ahead and kept refrigerated until serving.
If you need more recipes...
Get your free copy of the
6 FAMILY MEAL IDEAS
TO MAKE YOUR EVENINGS
STRESS-FREE
Comments