This recipe is a sure winner among children and adults: simple, quick and it's bursting with flavours.
I made this Fish and Prawn Bulgur Risotto yesterday and it has been such a success then even I was surprised. It is a simple dish but it is bursting with flavours – and of course, it is ready in 30 minutes. So it makes a quick but healthy family dinner and it is definitely a children's favourite.
It is also a great dish if you have guests, as it looks glamourous on the plate, the taste will amaze everybody and you still can have a chat with your friends while cooking.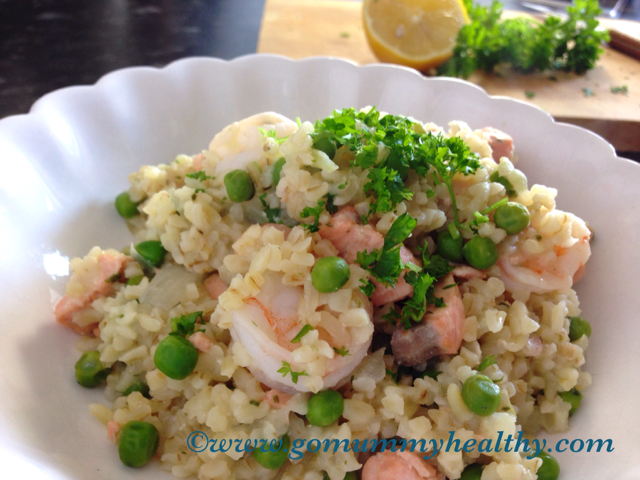 Prawns can be substituted with white fish in this recipe easily. I used bulgur in this risotto, I know it is a bit unusual, but I just love bulgur. Why?
---
Why bulgur?
Firstly, because it is something new and can break the boring row of risottos. It has a bit different texture from risotto rice – less creamy, but it works really well in this recipe. If you are in trouble to cook a perfect risotto rice (what is not that easy as it looks…) then I definitely recommend you to try bulgur risotto.
Secondly, because bulgur is a healthier option. It contains four times more fiber than white rice and it is high in minerals like iron, manganese and magnesium. It is also a good source of low-fat protein. Bulgur has lots of health benefits – like lowering blood pressure,  reducing the risk of type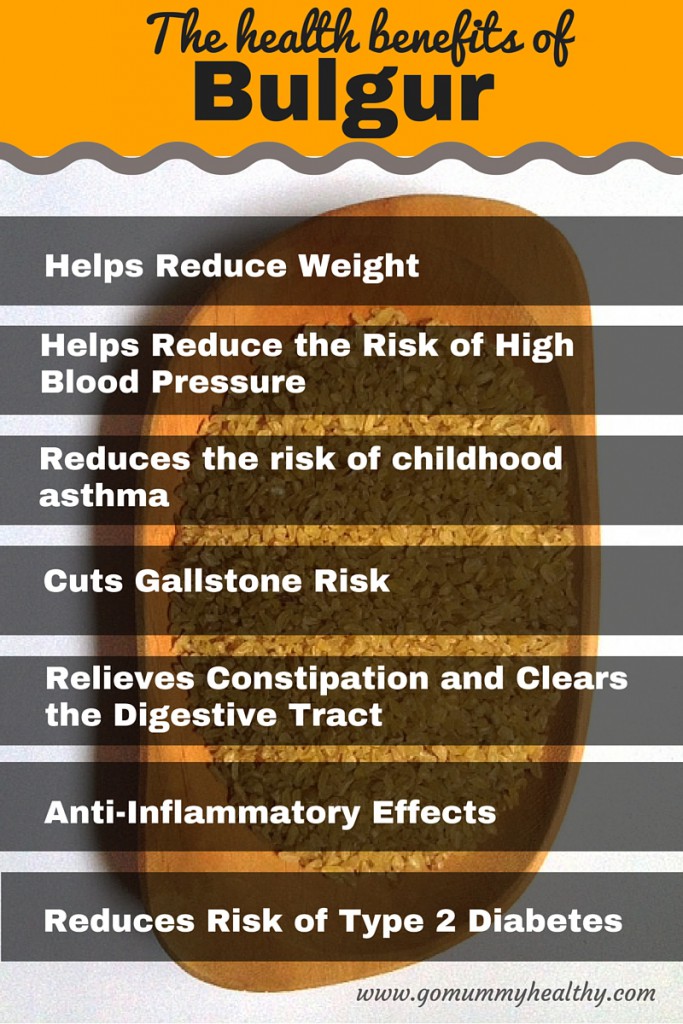 Bulgur has lots of health benefits – like lowering blood pressure,  reducing the risk of type-2 diabetes, cutting gallstone risk and protection against childhood asthma. It also helps reduce weight: because of its high concentration of fiber and protein we feel more satisfied and fuller for longer. 
Bulgur can be found on the shelves of health-food stores, Turkish and Iranian shops. It is a whole wheat kernel that is cooked and dried and then made available for consumption.  The whole grain is available in three grinds – fine, medium and coarse. The course variety is ideal to make side dishes and pilaf – like this Fish and prawn risotto. The medium-grind wheat can be a base for salads and breakfast cereals (used just like oats). The fine version can be added to soups and stews. 
If you need more recipes...
Get your free copy of the
6 FAMILY MEAL IDEAS
TO MAKE YOUR EVENINGS
STRESS-FREE
---
Fish and prawn bulgur  risotto – recipe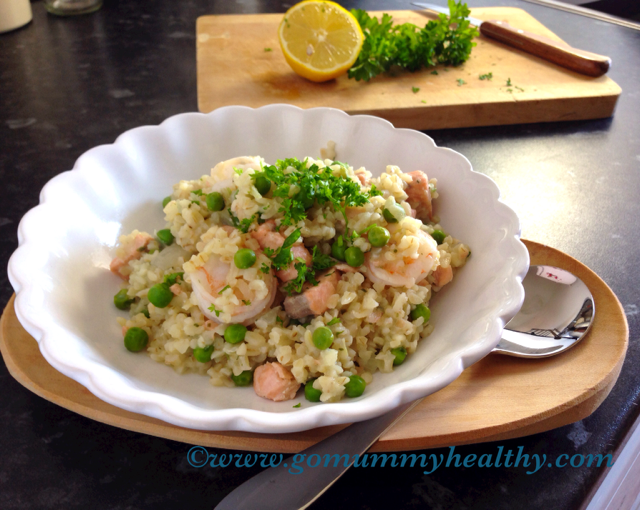 Total time: 30 minutes
Ingredients:
200g frozen uncooked king prawns
200g frozen salmon filets
2 tbsp olive oil
10g butter
1 celery stick
1 onion
300g bulgur
50ml white wine (optional)
1000ml fish stock or vegetable stock
200g frozen peas
zest and juice of 1 lemon
a handful of fresh parsley leaves
Step 1
Peel and dice the onion, cut the celery stick into small pieces (alternatively, put them both into a mini chopper.)
Step 2
In a pan melt the butter and add the olive oil, stir in the onion and the celery and sweat gently for 8 minutes until soft but not coloured, stirring occasionally. In the meantime, cut the salmon into smaller pieces. Add the bulgur and coat with the butter completely.
Step 3
Pour in the wine (if using) and simmer until totally evaporated. Add the stock and cook for 10 minutes. While waiting, chop the parsley leaves.
Step 4
Then stir the peas in and bring to the boil again before adding the salmon pieces and the prawns. Cook until the prawns just change their colour. Stir in the lemon juice and half of the chopped parsley leaves. Let the risotto rest for 5-8 minutes in the pan, then serve it topped with the lemon zest and the remaining parsley leaves.
If you need more recipes...
Get your free copy of the
6 FAMILY MEAL IDEAS
TO MAKE YOUR EVENINGS
STRESS-FREE
Comments