No, it's not an egg dish this time.
This is something even quicker and more convenient - and still high in protein.
I suppose I cannot provide enough quick and healthy breakfast ideas for busy families. Time is gold – especially when you work against the clock to get the kids dressed, fed and be ready to go.  It could be a ready-made cereal too – but only quick-release refined carbohydrates just do not contribute to the best performance during the day.
So, I have created a complete and balanced muesli here – this is just as quick as a cereal but provide much more nutrients – and I think it tastes better too. 🙂
Why we need a protein-rich breakfast in the morning?
An obvious question: why on earth we need protein in the morning? Why a slice of buttered bread cannot do the trick? Well, here is the answer:
Protein optimizes your brain's ability to send messages to the rest of your body, helping you wake up
When we eat protein for breakfast we feel more energised – it is impossible to concentrate in the school/at work with an empty stomach. So it is important to eat something that keep up our energy level even.
Keep you feel longer – so protein helps to maintain a healthy weight as we do not need to turn to calory-dense snacks.
Protein provides the amino acids your brain needs to function at its optimal level – in plain English it supports you to give your best performance during your day.
Are you a constantly tired Mum?
Follow this free action plan
to get your energy back!
The Best 7 Nutritional Swaps To Be an Energetic Mum
With a printable reference.​
What nutrients do we need to give the best start to the day?
It is a good idea to combine protein with carbohydrates – like scrambled eggs on toast, beans on toast or yoghurt with banana slices. In this case, your body will gradually digest your breakfast, staving off hunger and keeping you energized until lunch: our body uses carbohydrates first, then protein keeping our energy level even. To have the best start of the day, it is also good if your breakfast contains certain vitamins and minerals.
This Toasted Muesli With Quinoa and Seeds contain all the most important element of the perfect breakfast:
A protein-rich breakfast – thanks to the quinoa and the oats.

Contain essential micronutrients like 

calcium, potassium, magnesium, phosphorus and zinc, vitamins A, E, B6, C and folate.
Combines carbohydrates and protein for slow energy release.
High in fiber to support the healthy digestive system and help weight loss.
Make a big batch and enjoy it on busy weekday mornings.
Toasted Muesli With Quinoa and Seeds
Total time: 15 minutes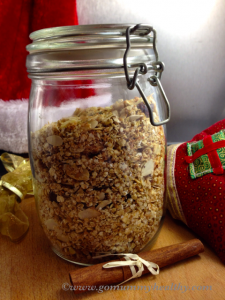 Ingredients:
180g porridge oats
70g rolled quinoa (you can find it in Holland&Barrett, Ocado or in healthy food shops, but substituted with rolled barley oats, millet flakes or jumbo porridge oats)
50g mixed seeds (pumpkin seeds, seaseme seeds, linseeds, sunflower seeds – you can find them on snack or home cooking shelves in supermarkets)
30g almond flakes (untoasted)
30g wheat germ
2 tbsp ground flax seeds
3 tbsp wheat bran (optional but it raises the fibre content)
2 tbsp sunflower or rapeseed oil
2 tsp vanilla extract
100g cranberries
100g raisins
Step 1
Pre-heat the oven to 160 C / fan 140C / 275F / Gas Mark 1. Line a big baking tray with baking paper.
Step 2
Mix the porridge oats, rolled quinoa flakes, seeds, almond flakes, wheat germ, ground flax seeds and wheat bran in a bowl. In a mug mix the oil and vanilla extract, then pour it onto the oats and stir to cover the flakes completely. Spread out the flakes on the lined baking tray evenly and bake it for 8-10 minutes.
Step 3
Let the muesli cool completely before adding the cranberries and raisins. Store in an airtight container for 6-8 weeks.
I think, they are the best with yoghurt and fresh berries, but they are also good with fresh orange juice and added nuts too…
Just let your creativity free here, experiment with your favourite toppings and – let me know in a comment what is your favourite combination. 🙂
Are you a constantly tired Mum?
Follow this free action plan
to get your energy back!
The Best 7 Nutritional Swaps To Be an Energetic Mum
With a printable reference.​
Comments