You would never guess what is the base ingredient of this light and creamy pasta sauce. If you want to lose weight or your kids to eat more veg, this healthy pasta is for you.
Hiding veg in a creamy pasta sauce
I am brave enough to say: this is the creamiest pasta sauce ever.
Still healthy. How? A really healthy vegetable gives the base of the sauce.
Look, I am not a fun of the idea to hide vegetables in recipes. I think we do a good job if our children like and choose vegetables deliberately and they are not tricked into eating more veg.
However, I admit there are popular and less popular vegetables – aubergine just belongs to the latest category. As I see, even adults struggle to fit this brilliant and beneficial vegetable into their diet.
About the no-fat cream
I love aubergine, not just because this is the best choice in a weight loss diet or maintain a healthy diet, but because it is so versatile. 
Aubergine can be added to stews, to curries and to salads. It has a fairly neutral taste but absorbs flavours very well. But be careful, as aubergine has a spongy texture, it soaks up oil and fat quickly, so use these sparingly and avoid deep or shallow fry it.
The best thing about aubergine it is so filling but low in calories: only 25 calories in 100g. Its GI index is also low, 15 out of the possible 100 – which means it keeps us satisfied for longer. Really, aubergine is just inescapable as part of a weight loss diet.
But it is beneficial for everyone so I can just recommend eating more of it. I know some people – especially children do not accept aubergine well – this creamy pasta sauce recipe is for them.
And the main reason that it makes dishes so creamy without adding cream, that you must try it. Usually, I recommend not to peel aubergine – as precious nutrients are in its skin (see infographic below) – but not in this recipe. Aubergine works very well as a cream alternative, but unfortunately just without the skin.
Health benefits of aubergine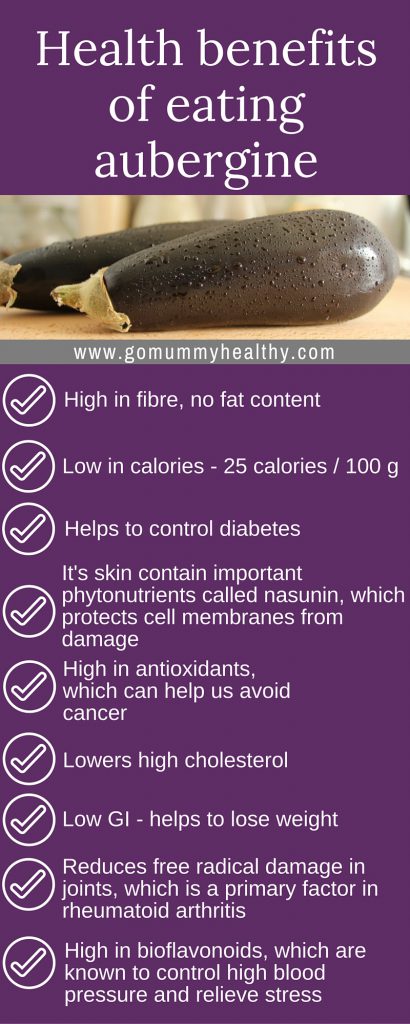 I guarantee, that your child will love this creamy pasta sauce
My children do not like aubergine… they ate 3 servings of this creamy pasta and when I told them that it has aubergine in it, they said: Yuck. Then they carried on eating it….
I created this pasta sauce because nearly all pasta sauce recipe for children is tomato based. It is understandable as vegetable based pasta sauces are healthier (contain less saturated fat, salt and sugar) – but my youngest is not keen on tomato. So I decided to give a try to aubergine and it has turned out to be a success.
Here is the very simple and very quick recipe:
If you need more recipes...
Get your free copy of the
6 FAMILY MEAL IDEAS
TO MAKE YOUR EVENINGS
STRESS-FREE
Light and creamy penne with aubergine and bacon
Total time: 15 minutes
Serves: 4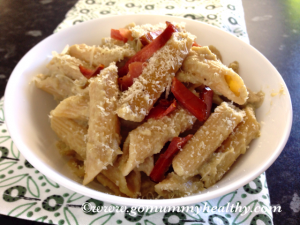 Ingredients:
1 tbsp rapeseed oil
2 rashers of lean smoked bacon
1 big cloves of garlic
1 big aubergine
1-2 tbsp light cream cheese
300g wholemeal penne or fusilli
grated parmesan
Step 1
Cook the pasta according to packet instructions. While the pasta is cooking make the sauce.
Step 2
Cut the bacon into thin strips, peel and cut the aubergine into 1-inch cubes. Heat the oil in a medium frying pan add the bacon and fry it until it's crispy. Transfer the bacon strips from the pan to a plate (leaving the oil in the pan, add some if needed) and set aside. Put the pan back on the heat and crush in the garlic. Fry for 30 seconds, then add the aubergine and fry it for 10 minutes stirring it a couple of times. If it sticks just add 2-3 tbsp of the cooking liquid of the pasta. Season it with a pinch of salt and pepper as you go.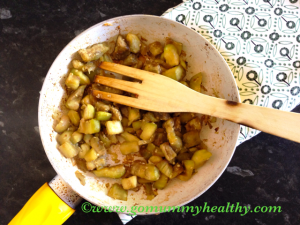 Step 3
Using a hand blender puree the aubergine and stir in the cream cheese. You can add fresh herbs at this point like parsley or basil if you want. Drain the pasta, mix it with the sauce and serve it topped with grated parmesan and the bacon strips. If you are after a bit more sophisticated dish, add good quality soft goat cheese pieces instead of the parmesan.
If you need more recipes...
Get your free copy of the
6 FAMILY MEAL IDEAS
TO MAKE YOUR EVENINGS
STRESS-FREE
Comments