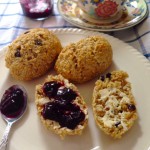 If you would like to eat a bit more protein, or have a gluten-free breakfast – or you just run out of bread… these little oat buns are here to help you.
I don't let you down: a really quick recipe again, 5 minutes mixing and 12 minutes baking and the smell of these delicious fresh buns attract the whole family to the morning table. 🙂
I guarantee you will save these recipes into the family cookbook 🙂
A healthy breakfast… quickly
Do you like Danish pastry or a croissant for breakfast? It would be lovely to have them for breakfast on the weekend, but let's be realistic: would you get up hours earlier just to make them? Ready made ones? I have tried them, but they just make feel guilty and even more hungry. They are really high in sugar, refined carbohydrates and who knows what kind of fat… Not a healthy choice.
So I looked for alternatives what my children eat and love too and I do not need to sacrifice my beauty sleep either.
I love toast, but I would like show other options for you. I listed a couple of alternatives for bread in my previous post and there I briefly mentioned an oat morning bread recipe. Now I have created the sweet versions and I have to say they are even better the salty one. They are also much healthier than a Danish pastry or yeast based bakery products. No added sugar in these beauties!
Related: Should bread be really excluded from a healthy diet?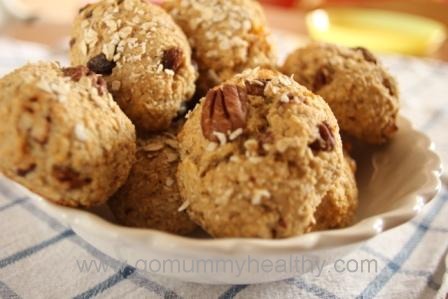 How these little buns give you a healthy breakfast?
– Oats are a perfect start for a busy day
Oats keep you fuller for longer, more satisfying than wheat, help blood sugar level even, it does not raise blood sugar quickly like refined wheat products do. So starting the day with oats helps to control appetite throughout the day.
– No added sugar
Kids can enjoy the sweet buns without added sugar. Oats are naturally sweet, I just highlighted this a with a little bit of dried fruit and a tiny bit of Maple syrup in the recipes.
– High in fibre and protein
Oats are high in fibre, help to maintain regular bowel movements.  Oats also have a chewy texture, it needs more time to chew and swallow, so it  forces us to eat more slowly. This gives time to our brain to realise when we are full. So it is perfect in your weight loss. Porridge oats are high in protein anyway but egg whites also raise the protein content in these buns and make then really satisfying.
– High in Calcium
Quark is a very underestimated dairy product, so I cannot stop recommending it. It is high in calcium and low in fat and it's neutral taste goes with nearly everything.
– No added salt
Oats are naturally tasty, so no added salt in these buns.
– Calories per buns:
less than 100 kcal per buns (Apricot oat buns: 72 kcal, Cinnamon-raisins oat buns: 73 kcal, Pecan-Maple oat buns: 99 kcal), so one with a small pot of natural yoghurt is no more than 200 kcal.
I give you three variations but you can make up you own:
– Pecan-Maple oat buns,
– Apricot oat buns and
– Cinnamon-raisins oat buns.
All family approved, however, there is no consensus which one is the best. I think the Maple-pecan is the best… or the Apricot bun… but I love the cinnamon raisin as well…
Morning oat buns – recipes
 
4 egg whites
400g porridge oats
10 g baking powder
200g quark
70ml water
For the cinnamon raisin buns (for 10 buns):
1/2 tsp ground cinnamon
1/2 cup raisins
For the Maple syrup pecan version (for 10 buns):
2 tbsp Maple syrup
1/2 cup chopped pecan nuts
For the apricot buns (for 10 buns):
1/2 cup chopped dried apricots
1 tbsp apricot jam
Step 1
Pre-heat the oven to 190C / 375F / Gas Mark 5, if you can switch off the fan.
Roughly chop the porridge oats in a food processor or mini-chopper.
Beat the egg whites until stiff, mix in the quark, then add the porridge oats, water and baking powder, mix in the cinnamon and raisins / Maple syrup, pecan nuts / apricots and jam.
Step 2
Line  a baking sheet with paper and with wet hands form 9-10 smaller buns. This dough is a bit soft and sticky, so do not expect a yeast dough texture. Try to form little bread roll shapes and do not flatten them as they may dry out quickly in the oven.
Step 3
Bake them for 12 (maximum 15)  minutes until they are golden. They are best freshly baked, but they can be eaten next day too, just put them into the toaster for 2 minutes.
Serve with a jam and butter / low-fat spread and a cup of coffee, or for an even healthier version: with a pot of natural live yoghurt and fresh fruits like one orange or a handful of berries.
∗∗∗∗∗
More recipes?

Comments