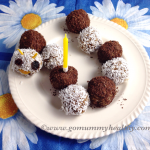 This Caterpillar cake is a healthy, sugar-free option for a toddler's Birthday and really easy to make. The base is cooked millet sweetened naturally with creamed raisins and fruit juice. (Gluten-free recipe)
As my daughter's second birthday is coming soon, I started to think about the birthday cake options. She would like a Minion cake this year – with an effective influence of her older sister. So, I am busy to find an idea for the cake. I know, there are so many ideas on the web, but I am reluctant to make a sugar-packed cake for my children. I mean, there must be a healthier option to create an amazing birthday cake. A Minion-themed this year. While I have been searching, I remembered a really easy birthday cake idea what is perfect for the first birthday party – and onwards 🙂
I am writing here about toddlers but to be honest, we adults enjoyed this cake too. It makes a light snack or pudding if you want. One ball is about 65 kcal, so it can fit into a weight loss diet too.
It is a millet-based recipe and brings all the benefit of this unfortunately underestimated grain. The truth is millet is not a grain, it is a seed and gluten-free. You can find the main health benefits of Millet on the infographic below.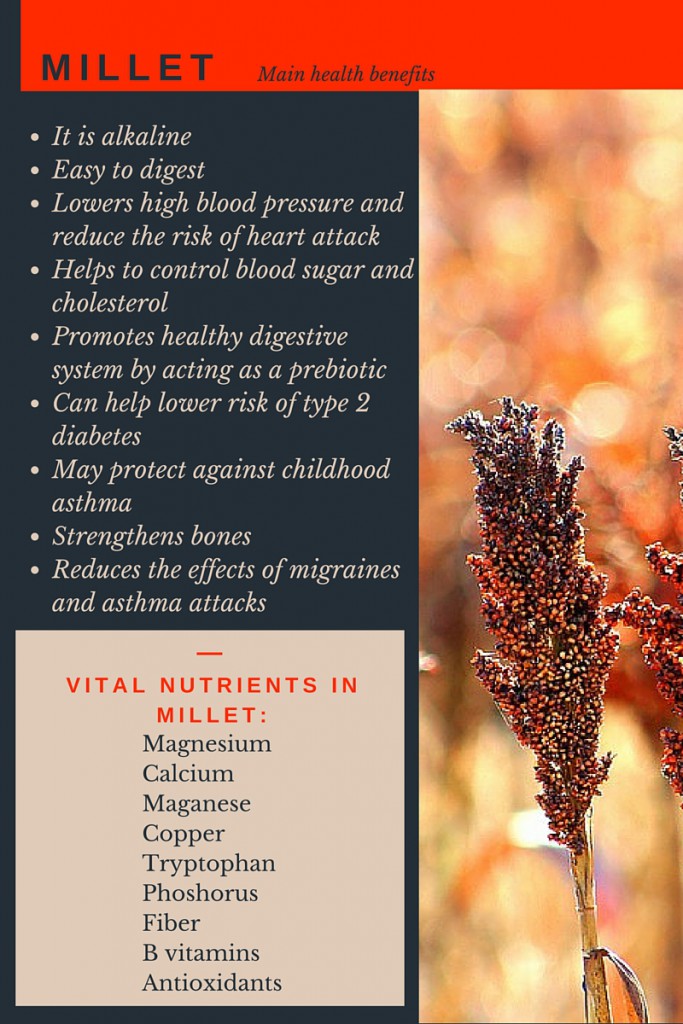 When we celebrated my older daughter's first birthday I was not able to bake a cake. Well, somehow I was not able to prepare anything really, my baby was with me (to be precise: on me) all the time, I did not have any help… So we just bought a small cheesecake – and I felt guilty. But there is a solution to create quickly a baby-friendly cake, and I found it, so on the first birthday of my second daughter, I managed to put together a toddler-friendly cake: a Peach and apricot cake.
If you need more recipes...
Get your free copy of the
6 FAMILY MEAL IDEAS
TO MAKE YOUR EVENINGS
STRESS-FREE
And now, that I should create a Minion cake, I am full of ideas of a first Birthday cake – like this Caterpillar Cake.
Of course, this is not the show-stopping birthday cake. This is something that you can make and offer to your little one and small children on the party. Something that is funny, tasty, chocolatey, but it is not full of sugar and food colouring. So it is a perfect starter in the long row of birthday cakes coming.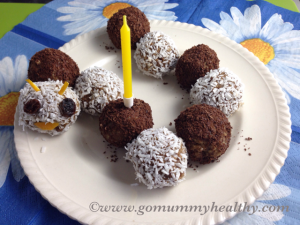 Caterpillar Cake recipe
Serves: 4 (about 16 balls)
Total time: 20 minutes (plus cooling time)
Ingredients:
110g (1 cup) millet or millet flakes
250 ml (1 cup) prune juice or orange juice
125ml (1/2 cup) milk or almond milk
125ml (1/2 cup) water
50g raisins
100 ml boiling water
20g black chocolate
20g desiccated coconut
Step1
Soak the raisins in 100 ml boiling water for about 20 minutes. In the meantime cook the millet in a pan adding 1 cup of fruit juice,  half cup of milk, half cup of water and 5g dark chocolate.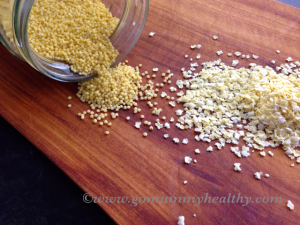 Step 2
With half of the soaking liquid puree the raisins with a stick blender. Add the raisin puree to the millet and let it cool to room temperature.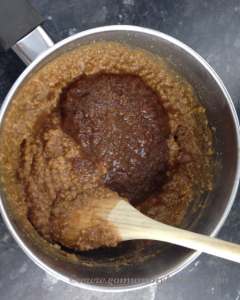 Grate the remaining chocolate and place into a shallow bowl. Into a separated bowl prepare the desiccated coconut.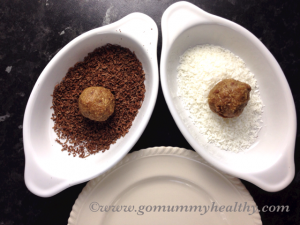 Step 3
When the millet puree cooled down form little balls with hands and cover them lightly with grated chocolate or coconut.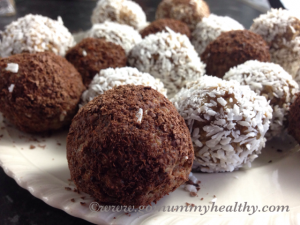 If you need more recipes...
Get your free copy of the
6 FAMILY MEAL IDEAS
TO MAKE YOUR EVENINGS
STRESS-FREE
Place them onto a plate and decorate: make eyes using raisins or chocolate pieces, mouth and tentacles from fruit pieces. Store the cake covered in the fridge.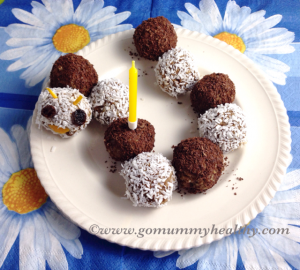 Comments