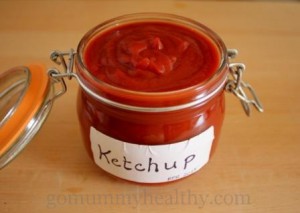 Ketchup or no ketchup? This is the question.
My daughters love ketchup – as most of the kids do. Is it good for them? Shall I let them eat ketchup?
I worked out a guilt-free, simple and easy-to-make healthy ketchup recipe – what I can offer to my children too without worrying about the sugar content and calories.
Ketchup – is it a healthy condiment?
Ketchup is  a relatively good choice amongst the condiments. It is low-calorie: 15g ketchup (one tablespoon) contains 15-20 calories.
On one hand, ketchup is made from tomato, and even it is a processed food it still contains Vitamin A and C and high in lycopene, which is a powerful antioxidant.
On the other hand, ketchup is high in sugar and salt. I am afraid these overweight the benefits of the tomato. Not to mention that in some product there are additives too- like xanthan gum sodium benzoate.
My other concern about ketchup that overpowers every other flavour. It is like a quick fix for everything: just pour over ketchup and the real taste of food disappears. No wonder that fast food restaurants and takeaway shops always offer ketchup. But I do not like when my daughters – who are just discovering tastes and textures – lick ketchup and ignore the rest of the meal. So ketchup consumption is strictly limited in our house. But sometimes it is so nice to have some with burgers or chips.
Once we found a very good quality organic ketchup in Germany. It was low in sugar and salt and the taste was really tomatoey. Since then I have not found really good quality ketchup as this German brand is not sold in the UK.
So I have decided to make home-made ketchup and I wanted my recipe to fall into the healthy recipes category. 🙂
Healthy ketchup
I never thought that making ketchup is so simple. I mean in an ideal world you would just pop out into the garden and pick juicy, sweet tomatoes and use them to make ketchup. But to be honest UK tomatoes are not very sweet… and besides we do not have a vegetable garden. the shortcut is passata: already picked, cleaned, peeled, mashed and sieved. So I use good quality Italian passata. Good quality means that the only ingredient in the passata is tomato, no additives and preservatives.  So passata makes the whole process so simple that you need only 1 minute to prepare the ketchup.
Cook it slowly for 1-1,5 hour, no rush otherwise it can catch easily – it depends on the natural sugar content of the tomato. It is worth to give time to your ketchup, reduce the volume slowly – as this way you can get the right consistency.
I am really happy with the taste of the ketchup: there are the tomato, the spices and a little bit of sweetness from the honey. However feel free to adjust the amount of honey in this recipe. If the passata is really sweet you need just a tiny bit of honey – but it depends on your taste.
As we do not eat a huge amount of ketchup for the reason above, this amount – about 500ml – long about 1-2 month. It keeps well in the fridge in an airtight container, or you can use an empty ketchup bottle too.
Home-made, no-sugar ketchup recipe
Preparation time: 1-2 minutes
Cooking time: 1-1,5 hour
Ingredients to make 500ml:
2*500 ml passata (choose a good quality product, the only ingredient should be tomato, nothing else)
1 small onion
2 gloves of garlic
1 celery stick
2 bay leaves
2 cloves
4 black peppercorn
a couple of mustard seeds
thumbnail-sized cinnamon
1 tbsp honey
1 tbsp balsamic vinegar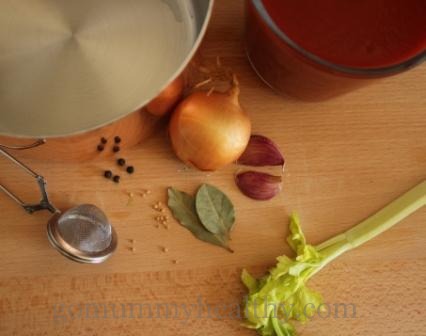 If you need more recipes...
Get your free copy of the
6 FAMILY MEAL IDEAS
TO MAKE YOUR EVENINGS
STRESS-FREE
Method:
Step 1
Pour the passata into a big saucepan, add the halved onion, the whole garlic gloves and the celery stick.  Put the spices in a tea egg: cloves, whole black peppercorn, mustard seeds, bay leaves and cinnamon.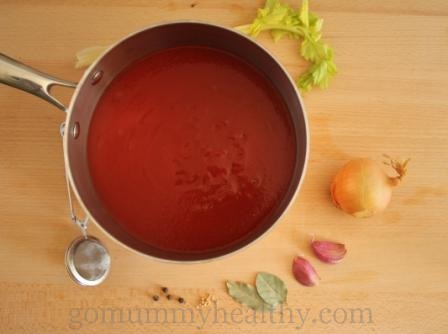 Step 2
Cook the tomato sauce on low heat until it reduces its volume to half.
Step 3
Remove from the heat, discard the spices,  the celery stick, the onion and the garlic gloves. Add 1 tbsp honey and 1 tbsp balsamic vinegar, stir and leave it to cool down to room temperature. Then pour into small jars or ketchup bottles and store in the fridge.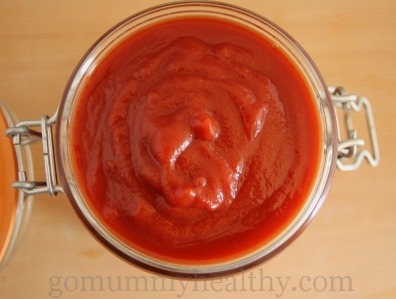 If you need more recipes...
Get your free copy of the
6 FAMILY MEAL IDEAS
TO MAKE YOUR EVENINGS
STRESS-FREE
Comments