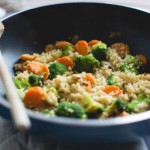 I resisted a slow cooker for a long time: I just did not want another big appliance sitting unused on my kitchen worktop. Finally, I gave a chance to it and my slow cooker has proved that I was wrong. To be honest, I just fell in love with it. A good slow cooker helps you to provide healthy and delicious meals to your family with a minimum effort. Basically, it gives you free time, lots of free time,- and no guilty conscious: home-made family meals are sorted.
 The slow cooker magic
I resisted a slow cooker for a long time: I just did not want another big appliance on my kitchen worktop. I thought an ordinary oven can do the job perfectly, so no reason to buy a slow cooker. But I was wrong, I am so happy that I changed my mind. Why? I found 5 really good reasons to buy a slow cooker.
#1 Timer
The first attractive attribute is the timer for me. If you haven't bought your slow cooker, choose one with a timer, it makes your life much easier: timing is not a problem anymore. Meals are ready just in time. I usually load my slow cooker at night, set up the timer and lunch is ready by the morning. Or you can set up your device in the morning and dinner is ready by the time you get home from work. But using at night suits me the best, and I think this is the most economic way to use a slow cooker – as it uses night electricity (which is one-third cheaper than the day electricity).
#2 Healthy food
In a slow cooker, you can use not just cheaper cuts of meat – what needs more cooking time, but they are so tasty,- but also you can use lean meat. Added fat/oil is not needed, choose recipes with lots of vegetables, low in sugar and carbs. The slow cooking method results fantastic filling rich meals and you do not need anything else just healthy ingredients. The healthiest meals are perfect using a slow cooker: soups or one-pot meals with vegetables, pulses are high in fibre and healthy nutrients. These meals completed by fresh ingredients,  (like green salad) and whole grains can result in a healthy balance diet for the family. A slow cooker is not just for meat-lovers: there are plenty of vegetarian recipes to use this useful device.  When we talked about slow cookers with my friends, they said that they would be annoyed by the smell in the house. I do not think that there is more smell in the house with slow cooker than using the traditional oven or hob. However, if you do not like it,  you can use your slow cooker in the pantry, in the garage or just keep the kitchen door closed while the slow cooker is on.
#3 Tasty food
I have tried different meals in my slow cooker: vegetable hotpot, meat, chicken, porridge for breakfast – all turned out amazing. If you haven't tried a slow cooker meals probably you think, that they are not different from meals cooked on the hob – but they are. Slow cooking on low temperature enhances flavour and gives a rich and tasty sauce and a tender texture to everything really.  Slow cooker meals are easy to digest. The nutrient content of slow cooker meals is a subject of professional discussion – as prolonged exposure to heat destroys some nutrients, but recent studies have proved that heating produce can increase the bioavailability of some nutrients (like lycopene in tomatoes, see related post: Easy and healthy pasta sauce – makes 3 meals (at least)) It is important that slow cooked meals are only elements of a healthy, balanced diet: it is vital to include meals containing fresh/raw vegetables and fresh/dried fruits too into our diet.
#4 Family friendly
My kids just love the slow-cooked meals, thanks to their tender texture. Small children, especially toddlers are prone to refuse food with chewy texture – like red meat or pulses. This challenge is resolved by the slow cooker. However, I would recommend offering them a variety of food with different texture and taste. For example both cooked carrot and raw carrot should be part of a balanced diet, they do not exclude each other. I know there are plenty of recipes on the web, but choose healthy slow cooker recipes: low-sugar and low-fat recipes, use just the minimum amount of salt and then you can get meals what are really healthy and family-friendly at the same time. You can modify the recipes, and make them healthier easily – as you do not to worry that food catches or burn in the slow cooker. You can find tips how to make a recipe healthier here: How to transform your favourite recipes into healthier meals?
#5 Time saver
It is just so convenient, you just put all the ingredients into the slow cooker set it up, and that that's it. You do not need to spend your time in the kitchen – not even in the house. Modern slow cookers are safe and reliable. They are brilliant when you invite people for dinner: dinner is freshly made by time.  Some recipes need some final ingredients added at the end of the cooking time or side dish prepared separately, but these can be done in no time. I usually load the slow cooker on Saturday night and it is so lovely to spend the lazy Sunday mornings with my family knowing the lunch is ready. Actually, even my device keeps the food warm after cooking time, I switch it off in the morning and leave it in the ceramic bowl to cool (It is recommended to leave it cool to room temperature anyway before storing it in the fridge). This way the lunch reach just the right temperature to consume for lunch. The ceramic bowl is suitable as a serving bowl too, so you can save time at serving and washing up too.
so finally I have bought an Andrew James Digital slow cooker:
How to save time with slow cooker
There are 2 ways to use a slow cooker to save time (apart from cooking time):
#1 Most people prepare all the (raw) ingredients of one family portion meal into a freezer bag and store it in the fridge until cooking. Then they just place the prepared ingredients into the slow cooker and cook it. Perfect when you use the slow cooker to cook dinner while you are working.
#2 I prefer to cook a double batch of the meal, have it as lunch and freeze the leftovers in one person portion size. This is because the main meal in our family is the lunch and not the dinner, and this way we can use these ready meals as weekday lunch. I usually add fresh ingredients to revive these meals (herbs to garnish, freshly made side salad or side dish).
Either way you do – it saves considerable time for you.
If you need more recipes...
Get your free copy of the
6 FAMILY MEAL IDEAS
TO MAKE YOUR EVENINGS
STRESS-FREE
Healthy slow cooker recipes
Here I share you my Hungarian turkey stew recipe and also a few of my favourite healthy slow cooker recipes from the web. Of course, there are plenty of recipes available online.
Hungarian Turkey Stew recipe
Time: 7 hours plus 30 minutes
Serves: 6-8 person
Ingredients:
1- 1,5kg turkey leg (with bone, cut into 2-3 big piece)
1 yellow pepper
1 red pepper
2-3 carrots
200g potato diced
400g tinned chopped tomatoes or 3 big fresh tomatoes chopped
1 onion finely chopped
3 cloves of garlic
4 tbsp olive oil
2 tbsp smoked paprika
Optional: a few dashes of cayenne pepper
 250g button mushrooms
1 tbsp Worchester sauce
1 tsp rosemary finely chopped
500ml chicken stock or water
freshly ground pepper
+
2 tsp cornflour
100ml sour cream
Step 1
Chop the onion finely. Heat 2 tbsp olive oil in a pan and brown the meat pieces and transfer them onto a plate. Add the remaining oil to the pan and fry the onion for a minute, then add the crushed garlic, paprika and cook for 30 seconds. Be careful not to burn the paprika. Pour in the chicken stock or water, add the Worchester sauce and season with black pepper and salt. Let the liquid to cool a little.
Step 2
Peel and chop the carrots, dice the potatoes and the peppers. Put the carrots, potatoes, peppers, mushrooms and chopped tomatoes into the slow cooker, place the turkey leg pieces on top, pour over the liquid form the pan. Finely chop the rosemary and scatter over the turkey and the vegetables. Set the slow cooker to 7 hours on low temperature.
Step 3
When the slow cooker finished cooking, mix the sour creme with the corn flour, add a few tbsp of the cooking liquid from the slow cooker, mix and pour into the stew. Stir it with a wooden spoon and cook the stew for a further 30 minutes on high setting.
Step 4
Shred the meat a little with a fork before serving. You can offer fresh sourdough bread with it.
And the list of my favourite healthy slow cooker recipes so far:
Slow Cooker Honey and Garlic Chicken and veggies – found on damndelicious.net
The only alteration what I did, I skinned the chicken added some mushrooms too. But the best part is the sauce here and you can add your favourite vegetables.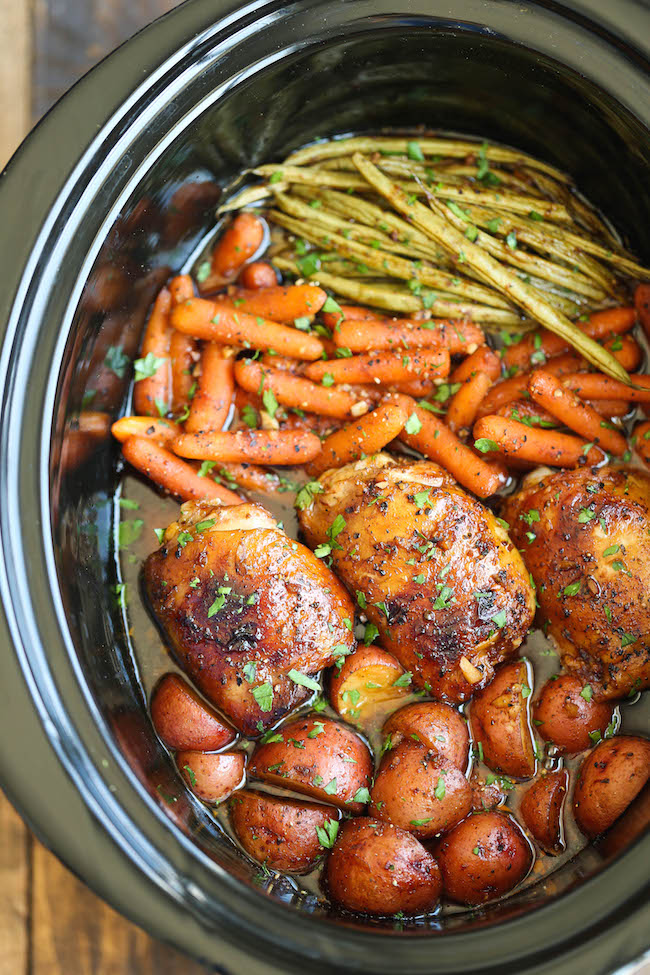 Vegetable and Chickpea Curry – found on myrecipes.com
I just omitted the sugar in this recipe, but my tomatoes were sweet anyway.
Crockpot Quinoa recipe – found on foodfanatic.com
Quinoa is one of my favourites and it loves slow cooker 🙂
Slow Cooker Apple Cinnamon Oatmeal – found on skinnyms.com
If you use sweet apples you can even omit the sweetener too.
If you need more recipes...
Get your free copy of the
6 FAMILY MEAL IDEAS
TO MAKE YOUR EVENINGS
STRESS-FREE
Comments