This recipe has been my little secret – until now. I must share it with you as this is the dessert what is really good for you: high in fibre, high in iron and it really chocolatey.
By the way, it does not contain added sugar. The perfect, guilt-free dessert in a weight loss diet. 🙂
And the best part: only 10 minutes to make it!
Healthy dessert? – perfect in weight loss
Yes, it is. If you are struggling to get your kids enough fruit, fibre or iron, or you need more fibre – this dessert is for you. Even if you are on a weight loss diet, you can enjoy these little balls, only 53 calories per ball, so you can have 2-3 for a snack. 🙂 As it is made with wheatgerm and fruits it contains Vitamin A, C and folic acid. Oh, and no sugar.
Despite all its nutritional goodness, it tastes as proper chocolate dessert.
My daughter loves them, and I am happy as she needs a bit more iron in her diet. But it is good to know, that dried fruits can be laxative, so limit children's consumption to 2-3 balls, I recommend not to exceed this serving size.
This recipe makes about 20 balls, so you do not have to hide them for long. 🙂
If you are not very skilled in the kitchen, do not worry, – this is the perfect recipe to start your culinary journey. It is absolutely fool-proof. The only equipment you need is a mini chopper or food processor.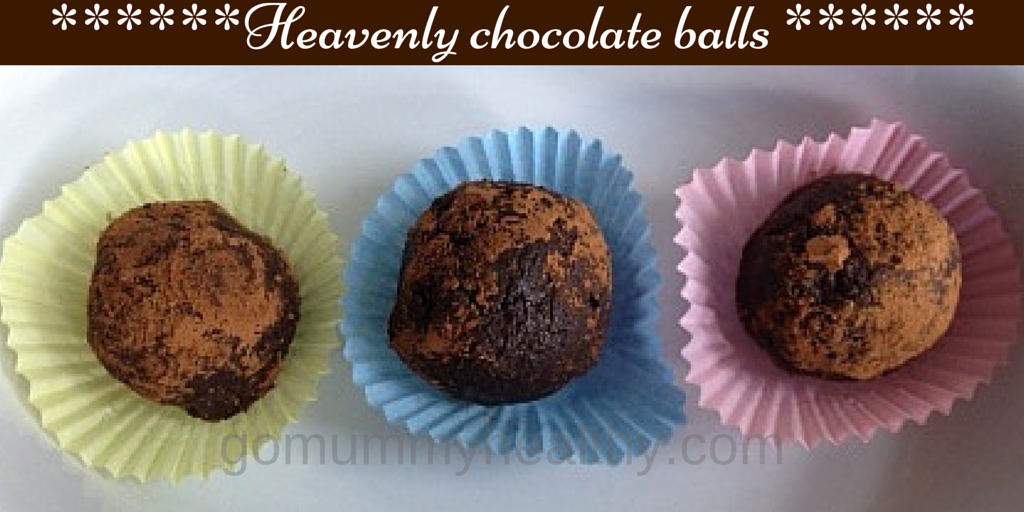 Heavenly chocolate balls

Ingredients:
1 handful of dried cherries (unsweetened)
1 handful of dried prunes
25g 80% dark chocolate
1 small banana
100g digestive biscuits
15g coconut oil (melted)
1/2 tsp cinnamon (optional)
30g wheatgerm
30g ground almond
1 tbsp cocoa powder (unsweetened) for coating
20 mini muffin cases
Method:
Step 1
Break up the chocolate and the biscuits, put them with all ingredients – except the cocoa powder – into the food processor. Do not forget to melt the coconut oil before adding. Blitz it for a couple of minutes, until all ingredients combine and there are bigger pieces of chocolate or biscuit in the mixture.
Step 2
Put the cocoa powder into a small bowl or plate. With wet hands from 20 similar size little balls and coat them with the cocoa powder. Place every little ball into a mini muffin case. Put them into the fridge for 1 hour, as they small they cool down very quickly.
Enjoy!
And leave me a comment below, if you like it. 🙂

∗∗∗∗∗
More recipes?

Comments