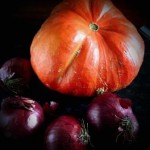 There are three really good reasons for eating pumpkins:
1, they are so healthy
2, they cook quickly
3, they are versatile.
Here are two recipes – you can pair them to make a lovely family meal – in a flash.
Four medium size pumpkin have grown in our allotment this year and there are plenty of ideas what to do with them – apart from Halloween carvings. So many ideas and healthy recipes!
When I was a child, an elderly lady lived next door, and at autumn times she always roasted pumpkins. I remember that lovely scent, it filled our street. And she always offered some of the lovely caramelised pumpkin wedges to the children from the neighbourhood. Sweet, deep orange wedges with slightly caramelised edges – we just sprinkled a pinch of salt on it… Yum. It is a shame that I cannot find that variety of pumpkin since then, but it was something amazing. Or, probably it was just an absolutely common pumpkin, simply tasted something special for me then… Who knows?
Anyway, – apart from the nostalgic feelings – I have really good reasons to be a pumpkin fan.
The best 3 reasons for eating pumpkins:
#1 Healthy
Pumpkins are really not just for Halloween decoration, it is worth to eat them as they are really good for you: high in Beta carotenes,  minerals and vitamins, no saturated fat or cholesterol. They are one of the best sources of Vitamin A, which is an essential vitamin for good visual sight and a natural powerful antioxidant. Pumpkins must be part of a weight loss diet as they are high in fibre, low in calories (26 kcal per 100g) and they fill you up quickly.
#2 Cook quickly
Yes, this is an important point too when it comes to family cooking – at least for me. Literally it takes only 5 minutes steaming and they are ready to eat. Ideal to make a quick soup, curry or make your stew richer and creamier. As I see, in most families pumpkin is just a baby food, and it is forgotten later. It is a shame because it is so tasty, so healthy – and so cheap. Pumpkins are so versatile that there must be at least a handful of recipes, what your family will love.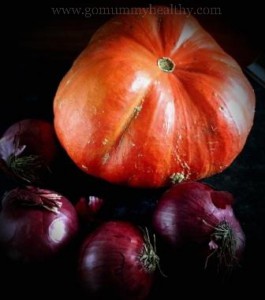 #3 Versatile
Pumpkins can be used in a variety of delicious recipes: baked or stew- fried; however, it is eaten best after steam-cooking in order to get maximum nutrients. They make a simple side dish just steamed or baked in the oven sprinkled with fresh rosemary leaves. Adding pumpkin cubes to curry or stew make them creamy and sweet. Pumpkins are naturally sweet, so they can be used both in sweet and savoury dishes. They can be a base of pies, pancakes, custard and other sweet cakes. They also can be used in warm salads, salsas or chutneys – even in pasta sauces. The number of pumpkin recipes is just endless – and haven't mentioned the other gem: the tasty and healthy pumpkin seeds…
If you need more recipes...
Get your free copy of the
6 FAMILY MEAL IDEAS
TO MAKE YOUR EVENINGS
STRESS-FREE
Pumpkin soup recipe
Pumpkin soup in a flash: a simple and quick recipe, but it is guaranteed that even the kids will eat it!    Serves: 4-6   Total time: 15 minutes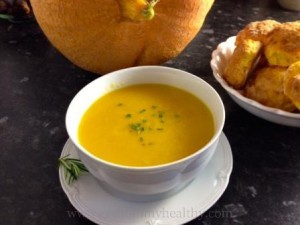 Ingredients:
1 tbsp olive oil
2 cloves of garlic
1 leek (or 1 medium onion, but I prefer leeks as its taste is not too strong)
500 ml vegetable or chicken stock
500g pumpkin (peeled, cut into cubes)
1 rosemary spring or 3-4 sage leaves
Step 1
Peel the pumpkin and cut into chunks. Slice the leek. Peel and slice the garlic cloves.
Step 2
Heat the oil in a deep pan, add the leek and cook for 2-3 minutes. Then add the garlic, stir and pour over the stock. Add the pumpkins and 2-3 rosemary leaves or 1 sage leaf (reserve the rest for garnishing), bring to the boil and cook until the pumpkin is tender. About 5-8 minutes.
Step 3
When the pumpkins are cooked, using a hand blender puree the soup, season to taste and serve sprinkled with finely chopped rosemary (or sage).
Pumpkin scones
An easy and quick recipe, make it with the kids, they will love it!
 Serves: 4-6
Total time: 30 minutes (Preparation:15 minutes, baking time:15 minutes)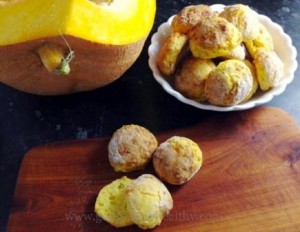 Ingredients:  
250g pumpkin (peeled, seeds removed, cut into pieces)
1 egg
5 tbsp milk
300g self-raising flour
1 tbsp black onion seeds
50g grated cheddar
Step 1
Heat the oven to 200C / 400F / Gas Mark 6.   Steam the pumpkins for about 5-10 minutes until they are tender, leave it to cool slightly.
Step 2
Mix the flour, black onion seeds and grated cheddar in a bowl and season it with a pinch of salt.
Step 3
Put the pumpkins into a mixer, add the milk and egg and mix them until you get a puree. (Alternatively, mash the pumpkins with a fork adding the milk and egg as you go.) Add the dry ingredients to the pumpkin mixture and stir until it forms a dough. You can add a little bit more flour if it is too sticky and runny, but finally you have to have a soft dough.
Step 4
Turn the dough to a floured surface, then flatten it into a 3 cm thick round just using your hand. Using a 4-5cm cookie cutter cut the scones (use up the offcuts to make the last few scones). Move the scones onto a baking tray lined with baking paper and bake them for 13-15 minutes until they rise and get a light golden colour. Let them cool slightly before serving.
They are lovely with a bowl of soup or as a perfect autumn snack: cut the scones into halves spread with light soft cheese and serve with an apple.
If you need more recipes...
Get your free copy of the
6 FAMILY MEAL IDEAS
TO MAKE YOUR EVENINGS
STRESS-FREE
Comments