A time-saver recipe can be life-saver too sometimes.
This mouthwatering Fish, Broccoli and Cauliflower Gratin can be made in 25 minutes and gives you 2 delicious family dinners - one of them can be a lifesaver solution for the end of a busy day.
Two family dinners in one go
The beauty of meal planning is that you can plan saving time for yourself.
This recipe seems to be a simple weekday dinner made within 25 minutes – but actually, this is more: two dinners made in one go.
Once you take the time to cook a family dinner, make a double batch and freeze one of them. Then you can just pop it into the oven on a busy weeknight and enjoy the mouthwatering result: a healthy and delicious home-made fish gratin.
Make sure that you use a freezer and oven proof dish. Or, if you are not sure, use simple Aluminium trays with a lid in the freezer what can be placed into the oven straight from the freezer. No worries and no washing up at the end. 🙂
In this recipe I used whiting but any other white fish can be used like cod or haddock. And PLEASE, do not use shop-bought white sauce. It is horrible and just wasted money really… I know that making white sauce sounds a bit "advanced", but it is so simple and you must know: it doesn't have to be perfect, a few lumps will disappear during the baking in the oven.
If you need more recipes...
Get your free copy of the
6 FAMILY MEAL IDEAS
TO MAKE YOUR EVENINGS
STRESS-FREE
Fish, broccoli and cauliflower gratin
Total time: 40 minutes (25 mins preparation and 15 mins baking)
Serves: This amount serves 8 or 2*4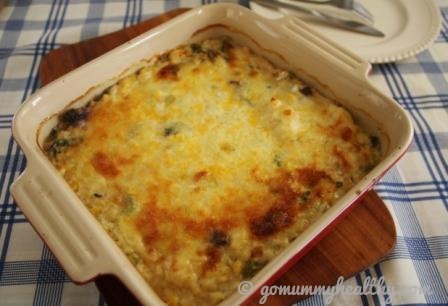 Ingredients:
3 tbsp olive oil
20g butter
75g plain flour
500 ml semi-skimmed milk
25g parmesan
220g grated reduced fat cheddar
450g white fish fillet
100g cauliflower
100g broccoli
100g frozen or tinned sweetcorn
1 tbsp English mustard
Step 1
Pre-heat the oven to 180C/ 350F / Gas Mark 5.
Heat 200-300ml water in the kettle and prepare the steamer into a pan.
Finely slice the leek and tear the broccoli and cauliflower into bite size pieces.  Put the leek, broccoli, cauliflower and frozen sweetcorn into the steamer, add the water and steam the vegetables until they are parboiled. (They will cook in the oven to perfection).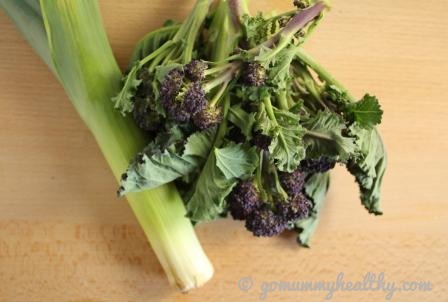 Step 2
Heat the oil and butter in a pan and add 75g plain flour. Keep stirring and gradually add the milk until you get a smooth sauce. Add the fish and cook for a further minute until the fish is white and breaks up. Gently stir in 1 tbsp mustard and 120g grated cheese. Mix in the steamed vegetables and divide it between 2 oven and freezer proof dishes. Scatter the remaining cheese on top.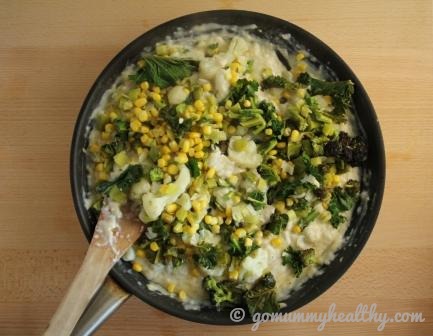 Step 3
Place one of the gratins into the oven and leave the other one to cool to room temperature.
Bake the gratin until it is piping hot and the cheese on top is golden. (15-20 minutes). The thinner your gratin is the shorter baking period it needs – it depends on the size of your baking dish really. Check the gratin regularly during baking. You can serve cooked rice or chips as a side dish with it, but it works as a light dinner itself too.
When the other gratin is cooled down to room temperature, transfer it to the fridge and after a couple of hours (or next day) to the freezer. When it's completely frozen, place it into a big freezer bag and seal it pressing out as much air as possible. This food can be kept in the freezer and must be consumed from frozen within 3 months. Just place the frozen gratin into the cold oven, set the temperature to 180C/ 350F / Gas Mark 5. Once the oven reaches this temperature bake them until it is piping hot and the cheese on top is golden. (25-30 minutes).
If you need more recipes...
Get your free copy of the
6 FAMILY MEAL IDEAS
TO MAKE YOUR EVENINGS
STRESS-FREE
Comments