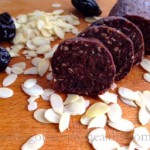 Healthy sweets and cakes for kids is always a bit difficult, as they know immediately that they are tricked. Well, it is not impossible to hide vegetables (like beetroot, carrot) in a cake, but when they recognise it probably they feel cheated. My trick is letting them making the dessert themselves – and this chocolate and prune discs recipe is perfect for this.
We had our first playdate with my daughter. She is four years old now and I have never seen her being so excited, – not even on her birthday.  So we decided to make a little present for her playmate and best friend, Jake. I though a little snack will be needed anyway, so we made little chocolatey rolls for the occasion together. My daughter loved it (she equally enjoyed making it and eating it:-)), so I decided to share it with you.
We could have bought some crisp or biscuits or some healthier (or just healthy-looking) snack in the shop – that would have been quicker, but I would have deprived my daughter of being proud of her own creation – and you know me: that would not have been a healthy snack or dessert…
Chocolate and prune rolls: a healthy snack
It is a simple recipe to make and as some chocolate is involved in the making children get really enthusiastic.  With supervision they can put together the whole thing within 10 minutes – okay, it needs 30 minutes chilling time in the freezer (or refrigerate overnight), but they can handle this. So, main ingredients go into a mini chopper or food processor first – here is where an adult's help needed, then mixing and forming. We made two little sausage shapes and cut little disks later, but you can form walnut size balls and hide a whole almond or hazelnut in the middle.  Then it just needs a little chilling and it is done.
I would recommend to include these Chocolate and prune rolls/balls even into a weight loss diet as a healthy snack or dessert – as they are really high in dietary fibre and rich in iron and other minerals – and only 2 slices of the roll or two balls can reduce sweet craving and provide one of your five a day fruit/veg (serving size of dried fruits: 2 tbsp per  serving).
To make it what you need is only dried fruit, nuts and a little bit of chocolate.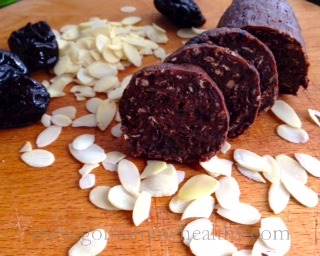 Is sugar our enemy?
I used prunes, raisins and dates this time. Well, they are high in sugar I know – and sugar is our enemy now. However I truly believe, that just exclude it completely from our diet is not a sustainable  – and is not necessary either. We should learn how to handle sugar – especially added sugar in our diet – and we should teach our children to handle it correctly. Children like everything that is sweet and sugary – but they can recognize and they can love natural sweetness. I watch my daughter – and I can see that she prefers the light sweet taste with flavour to heavily sugared "artificial" treats. Of course, she wants to eat gummy bears, but after just one (!) she asks for an apple… I know that starting school will bring new challenges on this field too, but I deeply convinced that we, parents  base and determine our children taste – and in this term it is critical what is offered them at home in their childhood. Especially early childhood years are really important.
If you need more recipes...
Get your free copy of the
6 FAMILY MEAL IDEAS
TO MAKE YOUR EVENINGS
STRESS-FREE
We need to know that naturally occurred sugar in fruits and vegetables is still sugar. It does not matter it is fresh fruit, dried fruit or fruit juice – so we need to know that these have an impact on blood sugar level and can cause tooth decay.
However, they are still better options as a snack or treat – as they are not refined sugar. Putting fruits and sugary drinks/food (with refined sugar) in the same "banned" category is a big mistake! Fresh fruits – and even dried fruits come with additional health benefits: they are full of fibre, vitamins, minerals, phytonutrients and antioxidants (even dried fruits too). Plus the sugar absorbs less slowly thanks to the high soluble fibre in fruits, so they do not have that immediate impact on blood sugar level than sugary drinks and candy sweets have – and they are satisfying, make us feel full.
If you would like to know how blood sugar level influences a child's behaviour read these articles:
The Relationship between Sugar and Behavior in Children
How to improve your child's behavior with blood sugar control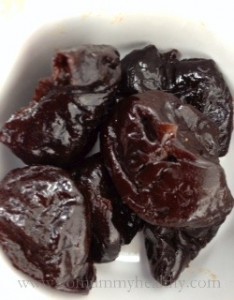 Dried fruits can be really high in sugar – like dried mango, banana chips or raisins, – so their consumption cannot be unlimited. But they have a place in a healthy balanced diet. Prunes, raisins, sultanas and dates are really good for children as they are high in iron and dietary fibre.  Both prunes and dates are also a good source of vitamin K and beta-carotene. But it is not recommended to eat large quantities of dates because they both have a laxative effect. Dates are rich in minerals like potassium, calcium, manganese, copper.
Chocolate and prunes roll (or balls) recipe
Serves: 4-6
Time: 10 minutes + 30 minutes chilling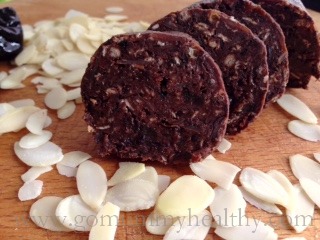 Ingredients: 
30g dried dates
70g soft prunes
100g raisins
100g dark chocolate
60g (1/3 cup) ground almond
30g (1/3 cup) rolled porridge oats
30g whole almond or almond flakes
Method:
Step 1
Melt the chocolate: break the chocolate into small pieces and place over boiling water in a glass bowl. Stir a couple of times and remove from the heat as soon as all chocolate piece disappeared.
Step 2
Place the dried fruits into a food processor or mini chopper and whizz until you get a smooth texture.
Step 3
Mix the dried fruit paste with the ground almond, chocolate, porridge oats and whole almonds (or almond flakes). Divide the mixture into two and place on a piece of cling film. Closing the cling film roll about 3 cm diameter sausage shapes. Or you can roll walnut size balls and roll them in flaked almonds. A whole hazelnut or almond can be hidden in the middle of the balls as on the picture below.
Step 4

If you need more recipes...
Get your free copy of the
6 FAMILY MEAL IDEAS
TO MAKE YOUR EVENINGS
STRESS-FREE
Chill the Chocolate and prune rolls/balls in the freezer for 30 minutes, or in the refrigerator overnight. After chilling remove the cling film and slice.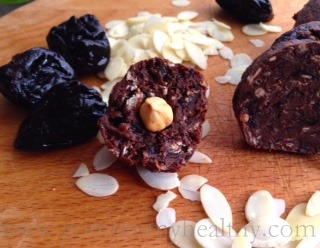 Comments