Can your pre-school child cook?
Of course, (s)he can. - Try this.
Why?
Because it helps them to develop their skills, personality and gives them an invaluable advantage in life.
We all want our children to eat healthily and make good food choices.
Cooking with children is a fun way to teach them being responsible and independent in the kitchen – and there are additional benefits too.
I am very often asked, that what age they should start cooking? My answer is: let them be active in the kitchen as soon as they can sit. Let them watch you while cooking, give them kitchen tools to play with them and help them to learn basic kitchen skills as soon as possible.
We very often underestimate our children's ability and we tend to see the risk in everything – so we restrict their activities to the safe ones. And cooking is very rarely listed as a safe activity for toddlers and pre-school and school-age children. They are naturally interested in everything we do in the kitchen. Of course, it is a magical place: bland and unappetising things can transform into something colourful and delicious. Their smell, texture, taste and colour all changing – this must be magic.
But there are sharp knives, hot objects and moving electrical appliances…so we prefer shutting out our children from the kitchen and they can't experience this magic themselves.
I know from my own experience that cooking with children means extra time, extra attention and unexpected happenings. But they can – and as I see they are ready, – to learn where are the hazards and they are able to handle them. If they can discover the magic button on the blender with you, they will be less likely to do it when they are alone unsupervised. They are more prepared for life this way, don't you think?
Baking and cooking from scratch help them develop a mature palate for fresh real food and they become more accustomed to the taste of healthy and nutritious food. So, this makes the messy kitchen worth it. Look at this as an investment, one day they start cooking for you… 🙂
But there are other benefits too.
Is your family's diet as healthy as you think?
Use this quick checklist to find out:
25-point Family Nutrition Analysis​
The 15 reasons how cooking can help the development of children
Why small children should cook? I have no less than 15 reasons to let your toddler and pre-school children cook.
#1 They learn to recognise and handle health and safety hazards in the kitchen and learn a life skill
#2 They learn the basic kitchen skills and the hygiene rules like washing hands, cleaning tools and surfaces
#3 They learn to be patient: the cooking process makes them focusing on the result and sometimes they have to wait. This supports their personality development.
#4 They learn to follow a plan step-by-step – what is the recipe in this case and this is a huge step in their cognitive development.
#5 Cooking boosts children's confidence. They can be proud of their making: " I made it"
#6 Sharing their self-made food improves their interpersonal skills and also their self-confidence
#7 Cooking with children is good for their math: their mathematical skills develop by measuring and counting ingredients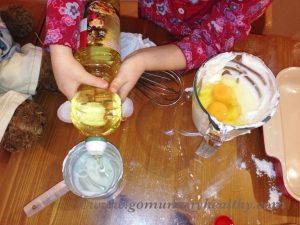 #8 Cooking can help them to practice self-control and help their problem-solving skills.
#9 Cooking together can help children to develop their language skills too. It is also a good and natural way to talk about nutrition.
#10 It supports their physical development too: fine motor skills are needed to break an egg, stir the dough, sprinkle nuts and seeds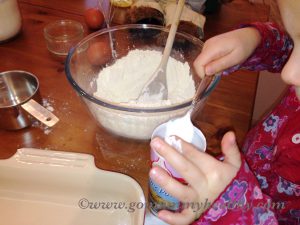 #11 Cooking is a sensory adventure too: they can experience different textures, weights, colours, shapes and sizes
#12 Cooking with children is good for their creativity. They can experience the consequences of their doing: what if we don't follow the recipe or change the ingredients?
#13 They can learn that making mistakes is a way of learning. They must know that they are allowed to make mistakes as experimenting is unavoidable in cooking.
#14 Cooking can be a stress relief in their life and make them happy – especially if it is a quality time with their loved ones. Cooking with children provides parents more opportunity to bond with their children.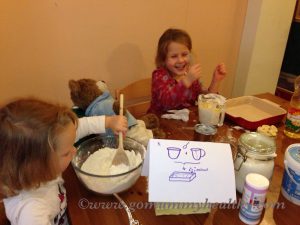 #15 Cooking with children gives a good opportunity to teach them the basics of healthy eating: getting know the healthy ingredients, healthy cooking methods and serving sizes early in their life means that they will know what are right choices later in their life.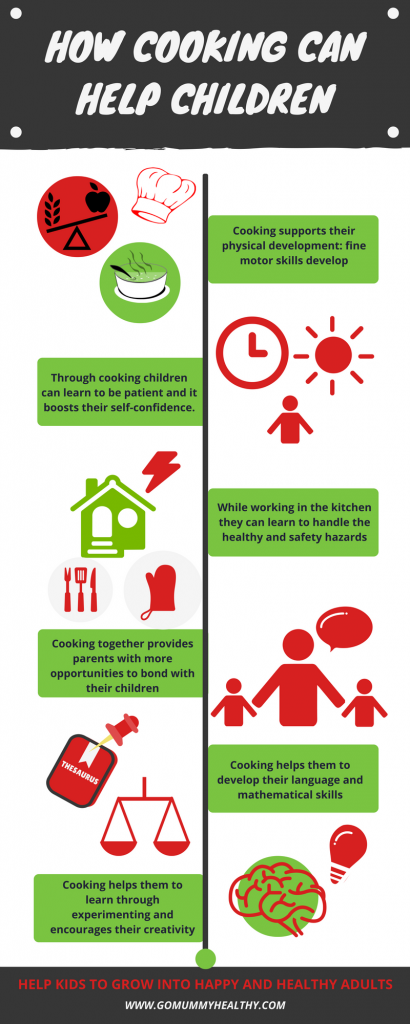 Cooking with children
To illustrate all this I took photos of my children when we baked a cake last time. Of course, I share the recipe of a really child-proof cake too to start with.
Click here to download and print the infographic recipe card.
This is a delicious cake but easy, quick and absolutely customisable – so it gives way to your child to make one or more variation.
The speciality of this cake that after a little help first time they can make it themselves (obviously with the supervision of an adult). Where an adult's active help is needed is placing the cake into the oven and taking it out.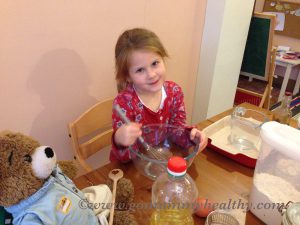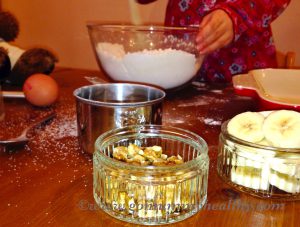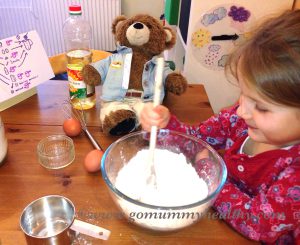 We made the basic version and my oldest daughter went for a walnut and banana topping. (Not the best one, but I let her choose – and later she admitted that the banana slices weren't the best choice and she will choose something else next time. I was glad, as this is the point. And I have to note here that we ate up all the cake…)
Is your family's diet as healthy as you think?
Use this quick checklist to find out:
25-point Family Nutrition Analysis​
My little one didn't want to participate this time, she only enjoyed adding the walnuts to the cake. She is usually good at sprinkling things on the top, but as you can see she just poured them on one spot this time… we managed to fix this one too 🙂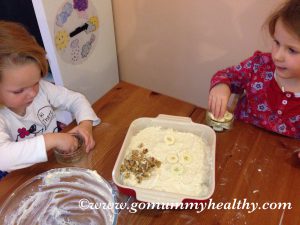 So finally we've got the cake: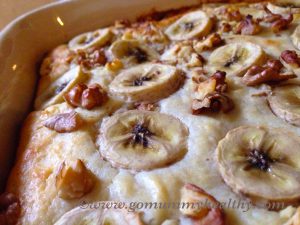 If you really want to achieve the benefits of cooking together, please consider my advice:
Do not take over the process
Allow them to make mistakes and experiments
Be there when they need you, but don't take out anything from their hands saying 'you cannot do this' (except if it risks their safety, of course).
Prepare yourself for a mess. They do a mess – especially first time. But make them aware that tidying up is part of the cooking process.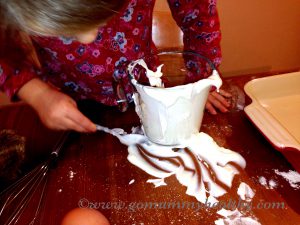 But they can't read…
No worries, I have created a special infographic recipe card so they can 'read it'. (You can see the early version of it on the pictures, but the final version is much better)
It is likely that they need a little help first time to 'decode' it but they can use it confidently next time.
It looks like this: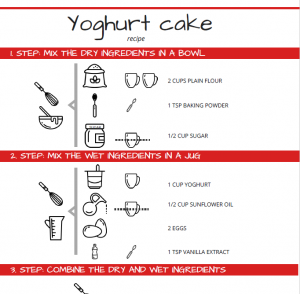 Click here to download and print  the infographic recipe card.
This is the recipe:
Yoghurt cake recipe
Time: if you make it 10 minutes mixing + 35 minutes baking- if children make it can be much more….
Serves: 4-6 people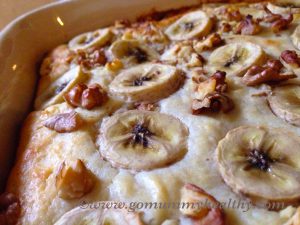 Ingredients:
2 cups plain flour
1 tsp baking powder
1/2 cup sugar
1 cup yoghurt (or soya or coconut yoghurt)
1/2 cup sunflower oil
2 eggs
1 tsp vanilla extract
1 cup topping of your choice: fresh or frozen berries or other fruits, nuts & seeds chopped (like walnut, pecan nut, sunflower seed, almond etc), dried fruits (like raisins, cranberries, prunes, apricots etc.), chocolate chips
Alternatively, lime zest or orange zest or desiccated coconut can be added to the cake mixture before pouring it into the baking tin.
Step 1
Pre-heat the oven to 190C / 375 F / Gas Mark 5. In a bowl mix the dry ingredients: flour, baking powder, sugar (if using: lemon zest/orange zest/desiccated coconut 3 tbsp)
Step 2 
In a jug mix all the wet ingredients: yoghurt, oil, eggs and vanilla extract.
Step3 
Pour the wet ingredients into the dry ingredients and combine.
Step 4
Pour the cake mixture into an about 22*22cm baking tin or a medium size round cake tin (Lined muffin tins can be used too). You can grease it with sunflower oil, but we didn't and the cake came out nicely. Add your choice of topping(s) and bake it for 35 minutes.
Please, let me know if you liked this and I try to create more recipe card for you.
Is your family's diet as healthy as you think?
Use this quick checklist to find out:
25-point Family Nutrition Analysis​
Comments