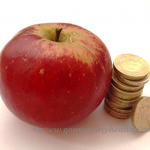 Let's be honest: price is important. It does influence our food choices. If healthy food is more expensive then it could be a significant barrier to us eating more healthily.  Is it possible to follow a healthy diet on a budget?
The healthy food trap
When I talk to mums about their children diet they nearly always sigh: "Oh, yes they do love fruits, but fruits and veg are so expensive!" It looks like that we have an impression, that healthy food is generally expensive. There is true in this claim. Because most of the products on the supermarkets shelves claiming "healthy" are more expensive. They are. Just look at the Free-from products shelves. But these are what we really should look at?
Be careful with "free-from", "low-sugar" and "low-fat" products, they may still be packed with calories. Choose naturally low-calorie items like fruit and veg, and keep the low-fat and low-sugar products on the minimum (like low-fat pasta sauce). The problem is with these that the reduced fat or sugar content is usually replaced with something else in order to get the right texture/colour, so they contain more additives and not necessarily less calorie.
There are products that look like a healthy option, but they are not: the product name includes a healthy ingredient (usually veg or fruit), the package picture healthy ingredients (again veg or fruit) or the label mention healthy ingredients – but the amount of these in the product is minuscule or just flavouring. There are keywords what make us feel reassured, but they are just a piece of the jigsaw: always read the label and check the entire ingredients list. Look at not just the ingredients but their proportion too in the actual product.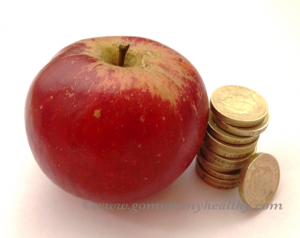 The food market is a really tricky one and – healthy food or not healthy food- we have to be a smart shopper to find the best value. Food marketers know us very well, they spent an awful lot of money to map out our habits and weaknesses, then they bombard us with offers – regardless it is healthy or not, economic or not, environment-friendly or not. And we are prone to fall for these – of course.
Who does not scan the red "sale" price tags under the products? Who does not check the aisle-end offers? Who is not prone to choose the product with a better-looking package (even if it contain less of the actual product)?  These all seems to be a justifiable move: we all are looking for the best value and best quality and these offers seem to fulfil our expectations. But are these products on your healthy food shopping list? Do you really need a second jar of Nutella just because it is free? Or – the question rather is: do you need Nutella at all?
The best deals are usually on multipack crisps, biscuits or other treats. Supermarkets always want us to buy more, especially when it comes to high-sugar, high-salt and high-fat products.
What can you do?
If you need more recipes...
Get your free copy of the
6 FAMILY MEAL IDEAS
TO MAKE YOUR EVENINGS
STRESS-FREE
Be prepared for shopping
You are in a better position if you put together a 4-7 day meal plan and based on that a shopping list before entering the shop, then stick to it. You can feel free to buy non-food items on sale anytime, though. Food sale products help you to save money only
– if they are on your shopping list at the first place and
– the item on sale is the healthiest option (like in introductory campaigns) and
– they keep well for longer like tinned or jarred products and they are not close to the expiry date – so you are not forced to eat them soon and
– you have room to store them (e.g. there is room in your freezer to store an extra pack lean meat).
Related link: 
Healthy food in a budget
I would suggest you to keep your last 2-3 food shopping receipts and revise them. You can learn a lot about your shopping habits just running through the receipts: what items did you buy because you really needed them? What did you buy because you were impulsive in the shop? Were the sale items really a good deal?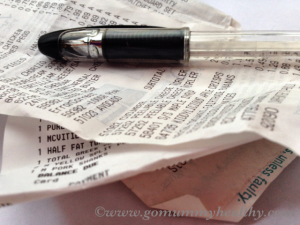 How to do a healthy food shopping within budget?
• Fresh fruits and vegetables do not need to be expensive, in this category you can search for a bargain. Seasonal fruit and vegetables are usually on sale, loose vegetables and fruits are also cheaper the pre-packaged. Make sure you always buy fresh fruits and veg, the withered, week-old spinach on sale will not provide the minerals and vitamins you need.
• Do not forget that dried fruits, frozen veg and fruit and canned vegetables (with no added sugar and salt of course) also counts to your 5-a-day. Plus they keep well, so you can stock up your cupboard/freezer with always available healthy ingredients.
• Quality is  over quantity: less but better quality meat means the best nutritional value. It does not mean that you have to buy always the prime cuts. Cheap cuts can turn into a delicious healthy meal too. But always check the origin, and whenever is possible choose the local, organic, free-range eggs, meat and poultry.
• Meal planning helps you save money and waste less food. You can even plan to use up leftovers too. Here is a little help at meal planning: How to master meal planning?
• Always check the food label: not always the big brands provides the healthier options or better quality. Sometimes supermarket own brands are the best choice.
• Buy in season products: fish, fruits and vegetables are usually cheaper when they are in season. You can check what is in season here: What is in season now? If you have time you can gain even more by visiting a pick your own farm and buy fresh, local fruits and vegetables from the field – selected by you. Apples, pears, carrots or potatoes can be stored in a dry cool place for weeks.
• Buy in bulk: there are products what are really good to buy in bulk like frozen products, meat, chicken or low-fat dairy products. If you are not sure what can be stored in the freezer, check this list: 7 top tips how to avoid "freezer"-tasting meals.
• Limit the unhealthy treats like crisps, ice cream, biscuits in the family diet and work out no food-related treats. If you are really after something sweet, try quick, healthy home-made snacks and desserts like these: Chocolate and prune roll, Easy energy bites, Heavenly chocolate dessert, Guilt-free cookies
• Swap ready meals to home-made meals. Home cooking reduces the cost per meal, gives you fantastic flavours and healthier too: no added preservatives, colouring, or other artificial additives. It takes some time and effort it is true – but with clever planning you need just minimum effort to deliver healthy and tasty meals to the dinner table. If you have no idea, where to start check out these recipes: Last minute family meals
• Prepare your own snacks too instead of popping into the shop to buy something satisfying quickly. It does not look rocking to pay £1-£1.5 for a tub of carrot sticks and cream cheese, but has it ever occurred to you that you can buy 1 kg organic carrot for the same price? One individually wrapped light Baby Bell cheese with one home-prepared carrot costs 42p. It just takes a little peeling and you saved £1. If you need quick and healthy snack ideas you can find more here: 15+1 no-carb snack ideas for busy mums
• Look for alternatives supplies of healthy goods like farmers markets, farm shops, or pick your own farms. Find the nearest farmers market to you here: Directory of farmers' market. I know they are not always cheaper than supermarkets, but it is worth to look around. There are box schemes too, they deliver fresh organic fruit and veg to your doorstep. You can also consider growing your own – if you have an opportunity for that. But I would definitely recommend growing your own herbs at least. Herbs are crucial if you want to reduce salt in your diet, and it is great if there are fresh herbs sitting on the window sill available anytime.
If you need more recipes...
Get your free copy of the
6 FAMILY MEAL IDEAS
TO MAKE YOUR EVENINGS
STRESS-FREE
Comments