As we are going into winter our diet needs to be adjusted. If we are not conscious of our winter menu we can easily catch illnesses and start the new year with pounds heavier.
As the seasons are changing our bodies' needs are changing too, so we need to know what is the right winter menu for us.
Naturally, as the temperature is decreasing we wish for warm, comforting food and at the same time, our activity level is going down. This means there is a higher risk of weight gain and a weaker immune system. Our survival instinct turns us towards the more energy-dense foods but the traditional Christmas indulgence – that starts as early as mid-November – doesn't help either.
So let's see what are the biggest hazards in our winter menu and how to avoid them.
'Hazards' in our winter diet:
Eating less fibre
In winter we are prone to move less and to eat less fibre-rich food. To avoid constipation we need to eat more foods like whole grains (for example brown rice, wholemeal bread), fibre-rich vegetables like legumes, and fruits like grapefruit, orange.
Sugary drinks
We are prone to drink more hot drinks which is fine if they do not contain extra sugar and fat like hot chocolate or creamy caffeinated drinks. Of course, we need to drink enough even in this season too – and it's a natural response that we are wishing for hot beverages. But it is wise to drink spicy tea, herbal tea, fruit tea instead of calorie-dense sugary drinks.
Would you like to know how much fluid your body needs?
You can find the answer in this previous post:
Why Will Drinking Water Make You Happy?
Shifting towards carbohydrates
We are prone to eat more carbohydrate (potatoes, bread, pasta) and neglect the fibre and nutrient-rich foods like salads or vegetables. We have to pay attention and find the balance of our meals eating the right amount of carbs, fat and protein.
Unhealthy snacking
Instead of grabbing a pack of crisps, take some fruits rich in vitamin C with you. Obviously, citrus fruits are the best, but sometimes they are not very convenient to eat on the go or in front of a computer because they need to be skinned and they are too juicy… But there are other alternatives too like one apple, a handful of dried cranberries, a few slices of pepper with a little piece of cheese make a perfect snack.
Feasting
We are prone to reward ourselves after a long day with eating too much and too late in the evening. Especially at winter, we are prone to look for comfort in heavy processed food. I try to prove on my blog through all my recipes that healthy meals don't take much time at the end of a day – we just need to plan ahead.
If you would like to read more on this topic this post is for you:
So how a healthy and balanced winter menu look like? Here is an example:
Sample winter menu:
Breakfast
Porridge made with semi-skimmed milk, topped with 1 tbsp natural live yoghurt, prunes and almond flakes + 1 cup skinny coffee
Snack
Handful of dried cranberries mixed with walnuts + 1 cup fruit tea
Lunch
Grilled chicken breast and green salad with 2 Ryvita crispbread + 1 orange
Snack
Small wholemeal sandwich filled with light soft cheese, 1 boiled egg and a handful of cress
Dinner
Oven roasted salmon with Puy lentils and sundried tomato side + stewed cinnamon plums topped with 1 tbsp quark + 1 cup of chamomile tea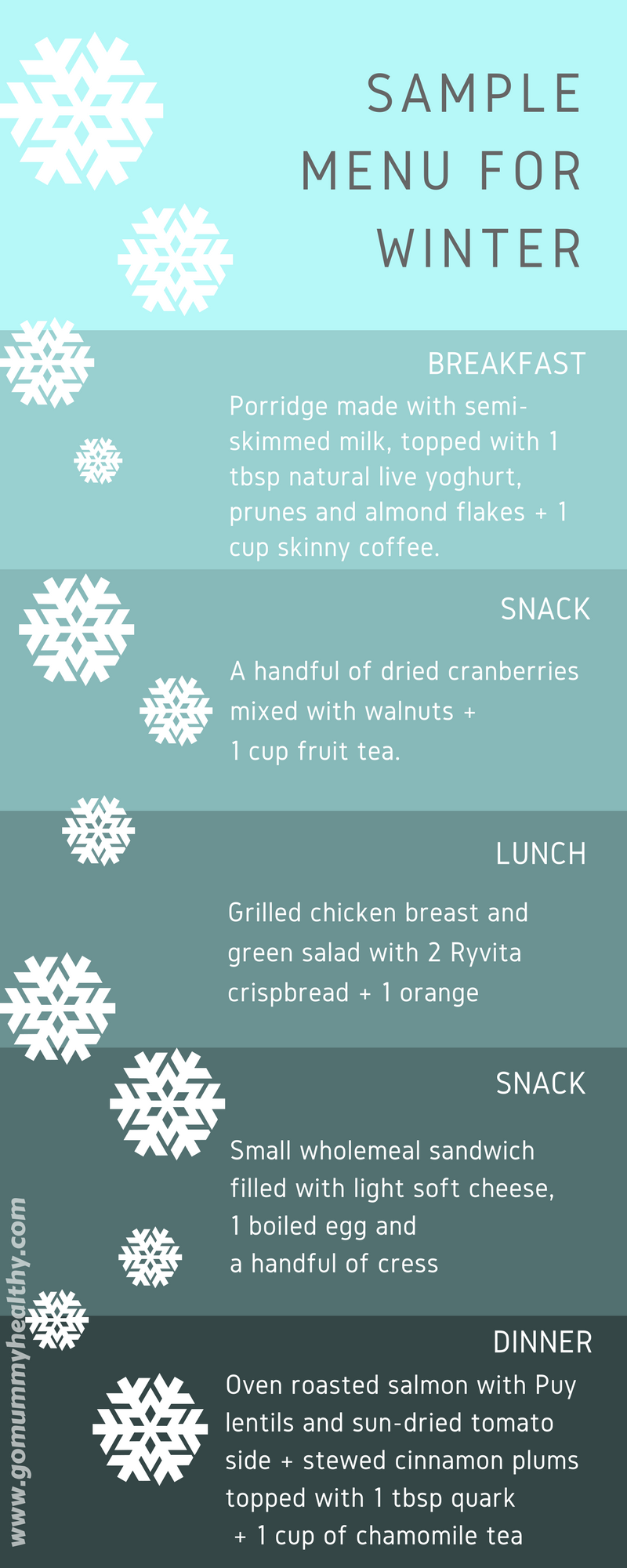 Comments