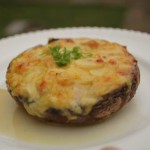 A quick dinner idea: this satisfying wet garlic rarebit mushroom will blow you away. Quick but it is bursting with fresh seasonal flavours and so satisfying… you cannot find a dish – like this –  in a restaurant, you have to make it for yourself 🙂
Quick dinners and taste of home
Sometimes we just do not want more than a quick dinner, like some cheese on toast. And sometimes we want the taste and texture of that lovely melting cheese and something more…
Melted cheese is somehow the taste of home for me. Nothing better on a rainy or stressful day. It makes me feel guilty though, we all know that cheese is high in saturated fat and, well, really high in calories. So I tried to make some compromise in this recipe: I kept the taste and texture of melted cheese using  reduced fat cheese and making rarebit – balancing it out with vegetables instead of bread. If you are not on a weight loss diet, you can offer some whole meal or sourdough toast with the mushrooms, but it is really not necessary as it is a complete and satisfying dish on its own right.
I am using wet garlic here as it is in season now, but it can be made with garlic too. Just substitute the wet garlic with 1-2 gloves of garlic. However it would be a shame not to enjoy wet garlic, it has a milder taste and it has not that pungent smell yet. When it is roasted gently, its texture is creamy, just imagine this mild garlicky paste on a lovely slice of toast with some good quality olive oil…
As we know, garlic is a superfood, it lowers blood pressure and cholesterol level, reduces the risk of heart disease and cancer, due to its antibacterial properties garlic is a great infection fighter – against viruses, bacteria and fungi. But many people are put off by its distinctive pungent smell and they try garlic in flake, powder or paste form. They are convenient, but they are not as good as fresh garlic.
Wet garlic is immature garlic really, it has a bit milder taste – rather sweet – and its smell is not that strong than garlic, but it already has the same health benefits than a fully developed garlic. they can be used as a substitute for chives, spring onion or leeks in recipes. As they are tender they can work well in salads, soups, stews or as pizza topping.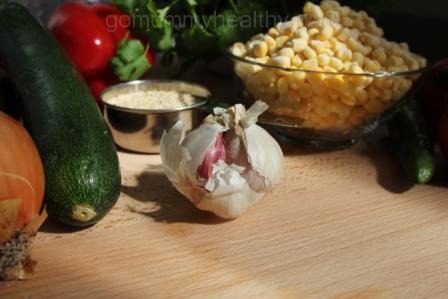 Wet garlic rarebit mushrooms – recipe
Total time: 30 min (prep 15 mins, cook 15 minutes)
Ingredients:
4 big portobello mushrooms
1 small wet garlic
10g butter
1 tsp English mustard
50ml ale or stout
1/2 tsp Worcestershire sauce
120g grated, reduced fat cheddar
2 egg yolks
2 slice of lean smoked bacon or ham
4 tbsp sweetcorn (tinned or frozen)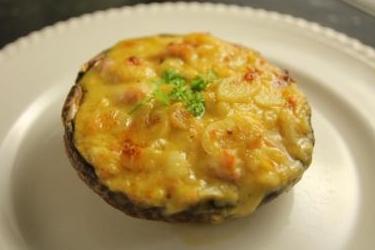 Step 1 
Pre-heat the grill to 200C / 400F / Gas mark 6. Finely slice the wet garlic (remove any solid bits).
Step 2
Melt the butter and fry the garlic on low heat for 2 minutes. Add the mustard, ale and Worcestershire sauce, stir and gently heat adding the cheese. Whisk and let the cheese melt but do not let it boil. Remove from the heat and leave to cool a bit.
Step 3
Meanwhile place the mushrooms open cup up on a baking tray. Slice the bacon slices, divide among the mushroom cups and scatter 1-1 tbsp sweetcorn onto the bacon.
Whisk the egg yolks into the garlic-cheese mixture, spoon into the mushrooms and grill until bubbling and golden. This is a filling dish as it is, but if prefer, you can serve it with crunchy sourdough bread.
∗∗∗∗∗
More recipes?

Comments