Picnic or afternoon tea?
This is the recipe what you are looking for:
Strawberries with a hint of chocolate - a light cake bursting with flavours.
​Once you tasted you will keep dreaming of it...
English strawberries are here, hurrah!
I seriously think that we are very lucky what concerns strawberries. We have a fairly long strawberry season so locally produced strawberry is available for nearly 3 months and they are just bursting with flavour!
So strawberry picking is already planned for next weekend – my plan to make strawberry-rose jam this year using my special jam stevia sweetener. It is a new recipe idea, so I am pretty excited to put it to test.
Until then, I have decided to make a lovely Chia and Strawberry cake just to celebrate the beginning of summer 🙂
The red goddess: Strawberry
Strawberries are extremely good for you, by the way, – it is not an accident that they were chosen as a symbol of Go Mummy Healthy. I would recommend eating as much as possible while the season lasts. I always loved strawberries  but I am even more enthusiastic since I know that they are one of the most powerful antioxidants.
Strawberries have antiallergen and anti-inflammatory properties. Lowers the bad cholesterol level, they are high in Vitamin C which boosts the immune system and keeps the wrinkles away.
They are only second to garlic for their anticancer properties: they contain ellagic acid what neutralises the cancer-causing chemicals in cured meats. Plus strawberries also contain quercetin, another flavonol, which helps to improve the health of capillaries, thus alleviate bruising, oedema, varicose veins and fragile capillaries.
Are you a constantly tired Mum?
Follow this free action plan
to get your energy back!
The Best 7 Nutritional Swaps To Be an Energetic Mum
With a printable reference.​
And what makes all these even better: they are low in calories – only about 28 kcal per serving – and delicious.
So strawberries must have been included into a healthy diet: 2 handful makes a brilliant snack, can be eaten added to smoothies, cakes – even to salads.
This recipe is perfect if you want to make a stunning cake for a picnic or a garden party. And gives me an opportunity to use my home-made vanilla extract the first time 🙂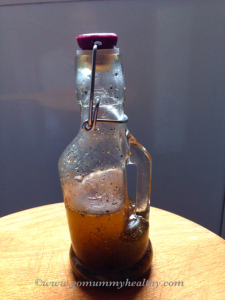 It looks like this and I used a simple glycerin-based recipe what I found on this blog: How to Make Non-Alcoholic Vanilla Extract
I am not sure, that a home-made vanilla extract is cheaper than the ready made from the shop, but I was fed up with the quality of the ready-made vanilla syrup from the shop. As  my local fruit-veg grocery shop sells vanilla pods 50p/pod – so it is not a big deal neither. So I decided to give a try, and the vanilla extract is just coming together by now.
This Chia and Strawberry cake will be a great opportunity to its debut 🙂
Here a quick tip to melt small amount of chocolate without making mess:
You can keep the cake in an airtight container up to 3 days, but it's the best eaten fresh. Here comes the recipe:
Chia and Strawberry Summer Cake
Total time: 55 minutes (20 minutes prep and 35 minutes baking)
Serves: 8
243 kcal per serving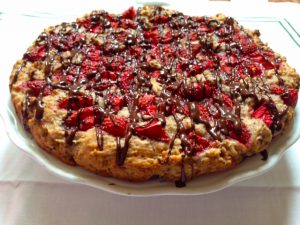 Ingredients:
2 tbsp chia seeds
5 tbsp water
100g wholemeal flour
100g plain flour
1 tsp baking powder
1 tsp ground cinnamon
75ml sunflower oil
100g apple sauce
1 banana
2 tbsp runny honey + 1 tbsp to drizzle on the top
1 tsp vanilla extract
150g strawberries
20g dark chocolate (optional)
Step 1
In a small bowl, mix the chia seeds with the water and leave to soak for 15 minutes.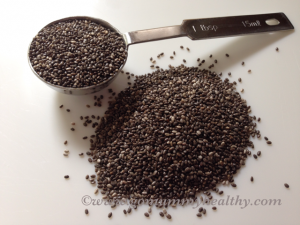 Step 2
Pre-heat the oven to 190C / fan 170 / Gas 5. Line a 16*20 baking tray or a 20 cm round spring form cake tin with baking paper.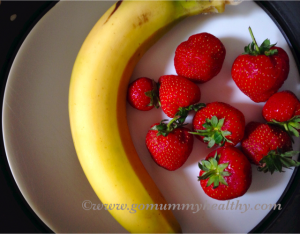 Step 3
Cut the strawberries into halves or quarters depending on the sizes of the fruits. I used quite big ones, so I cut them into 8 pieces. In a large mixing bowl, mix the dry ingredients: wholemeal and plain flour, baking powder and cinnamon. In a separate bowl mash the banana and add the sunflower oil, applesauce, honey and vanilla extract.
Step 4
Combine the dry and wet ingredients adding the swollen chia seeds. Spread the mixture into the prepared tin. Dot over the strawberries and carefully press them into the mixture. drizzle with 1 tbsp honey and bake it for 35 minutes until golden on the top.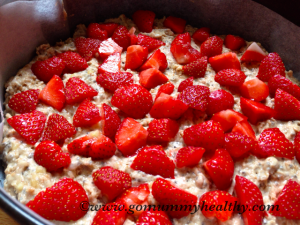 Step 5
Remove the cake from the oven and transfer to a wire tray to cool. Once cold, melt the chocolate and drizzle over the cake. Leave to set. This cake is best eaten fresh or on the following day.
Are you a constantly tired Mum?
Follow this free action plan
to get your energy back!
The Best 7 Nutritional Swaps To Be an Energetic Mum
With a printable reference.​
Comments