These lovely heart-shaped almond scones were made for Valentine's day, but they can give a cheerful start for any day.
Enjoy them with apricot or strawberry jam.
Scones for breakfast?
Do not be scared to make scones for breakfast – they are ready in no time and the taste of the warm crumbly cakes will be worth all the trouble.
I know, it is an effort. However, making these scones or the cocoa rolls posted earlier takes no more than 30 minutes – including 15 minutes baking time. And if I compare them to the shop bought danish pastries… these are the winner not just in taste but even in nutritional value too. Leftovers can be kept in the freezer and warm up in the oven – they will taste like fresh.
Related: Morning cocoa rolls – the fast version
Scones are a wonderful thing really – they are simple, quick to make and they can be dressed with your favourite flavours.
This Valentine's day I surprised my family with freshly made almond scones served in bed. They are a great treat with (home-made) apricot jam and a cup of coffee… Yum. Making the dough is no more than 15 minutes and while they are baking – coffee can be made and put on a tray (or the breakfast table) along the butter and jam. You really do not need to add anything else.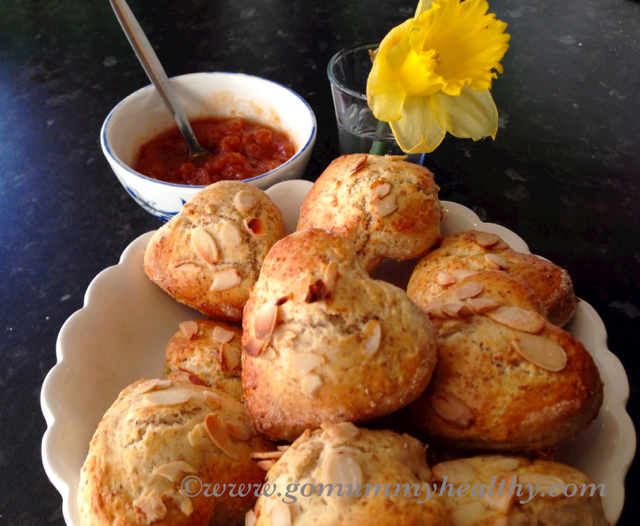 I think these scones are the best with apricot and strawberry jam but any jam could make it. Especially if you have a home-made jam. This lovely home-made apricot jam was a present from  a friend of mine. We praise her anytime when we take off the lid of the jar – so it is a kind of family treasure 🙂 Perfect company for the scones.
If you need more recipes...
Get your free copy of the
6 FAMILY MEAL IDEAS
TO MAKE YOUR EVENINGS
STRESS-FREE
The equipment you will need is 2 baking trays and about one 5-6cm size heart-shaped cookie cutter. Of course, you can make little flowers, birds, bells – whatever your mood or the occasion requires.
Heart-shaped almond scones recipe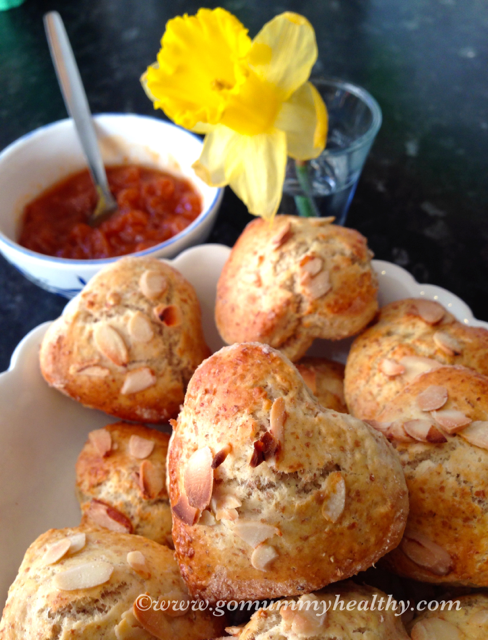 Total time: 30 minutes (15 minutes preparation and 15 minutes baking)
Serves: 4-5 people
Ingredients:
350g self-raising flour
100g wholemeal flour
3 tbsp ground almond
2 tsp baking powder
70g butter (soft)
50g caster sugar
2 whole eggs
230ml milk
1/2 tsp almond extract
3 tbsp flakes almond
Step 1
Pre-heat the oven to 220C /425F / Gas Mark 7. Measure the flour, ground almond, baking powder into a mixing bowl and stir. Using your hands or a food processor work the butter into the flour until the mixture resembles fine breadcrumbs.
Then add the sugar and stir.
Step 2
Beat the eggs in a jug, add the milk and the almond extract and mix them. Reserve about 2-3 tbsp of the milk mixture and add the rest gradually to the flour and quickly make a soft dough. You will get a sticky dough and it is tempting to add more flour, but do not add more, this is exactly how it should be. The soft dough will rise nicely in the oven.
Step 3
Turn the dough onto a floured surface and quickly roll it out to 2 cm thickness. Using the heart-shaped (or other) cookie cutter cut out the scones and line them onto the lined baking trays. Brush the top of the scones with the egg-milk mixture and scatter the almond flakes on top. Bake for about 10-15 minutes until the scones are well risen and golden. This is just enough time to make the coffee and prepare the butter, jam, plates, cutlery and a  flower on a tray. When the scones are baked cool them on a wire rack a little bit. They are the best when they are still warm.
If you need more recipes...
Get your free copy of the
6 FAMILY MEAL IDEAS
TO MAKE YOUR EVENINGS
STRESS-FREE
Comments