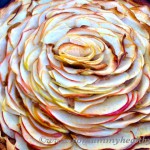 This recipe proves that you do not need to fill a cake with sugar to enjoy a luxury dessert. And this is a luxury dessert: using real rose petals rose butter and just a tiny bit of sugar you can create a show-stopping cake for any occasion.
~It is like the taste and beauty of summer on a plate.
Oh, yes there are moments when you definitely need some luxury in your life. And it is even better if you do not feel guilty later… This recipe is a kind of guilt-free cake.
Edible rose
The story started with the rose bush next to our front door. In summer time whenever I open the door I can enjoy the perfumed smell of these beautiful pink flowers.  It reminds me to Turkish rosewater. I think the plant itself a hybrid tea rose, not sure about the exact kind. Sorry, I am not a green fingered person.  However, I made a little research and I found out that every rose petal is edible. Some a bit more bitter than others, but basically all edible. It is a good idea to pinch out the white part where the petals attached to the stem – as this is the most bitter part.
It is very important that you chose a plant what has not been treated with pesticide. We do not want to eat chemicals, so it is recommended to find an organic plant.
I still remember the fantastic taste of rose jam what I got as a present from Iran a couple of years ago, and all these made me adventurous.  I have a rose petal jam recipe, but it is a sugar syrup based jam – probably all rose jam is 80% sugar…. Anyway, I choose the rose butter recipe instead. It is easy to make and it is sweetened with dried fruit, so it fits into our diet better. I procrastinated my plan for a while then I waited for our bush to offer fresh, young flowers and I picked them in the morning when they offer their best. From picking till tasting the freshly made rose butter – only 10 minutes. I really do not know why I waited so long to make this :-). But I am really glad that I finally made the butter – and next day the cake – because this is something extraordinary. I mean it is not a taste what you can get opening a factory product. Nothing artificial, this is something special, unique and – so obvious that even me took some time to realize: it is there. When I tasted the cake – and really anyone who had a slice – was shocked: it was a real, natural and pure taste.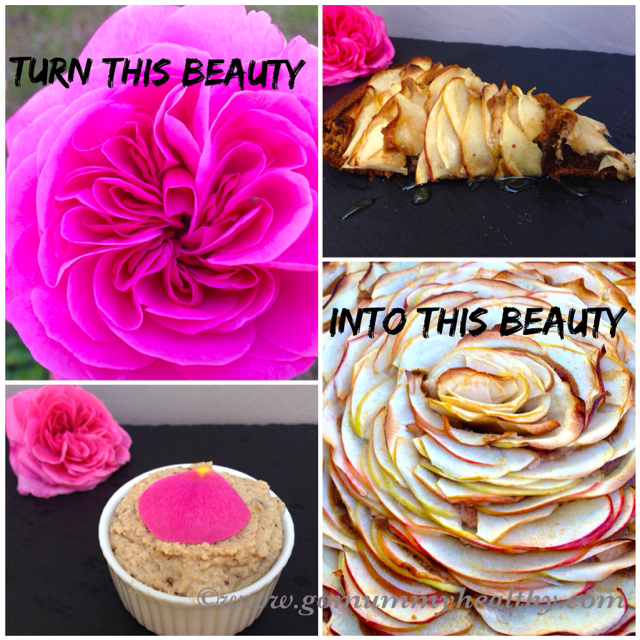 Less sugar – more rose
There are ingredients what makes food taste sweet without sugar, like vanilla, cinnamon or rose water. Just make a simple experiment: Add vanilla or cinnamon to a little yogurt or cream cheese and taste it. If you just add sweet berries – like juicy strawberries or ripe blueberries you will not miss the sugar at all!
And as we know reducing sugar in our diet is not easy, but a necessary step to a healthy and balanced lifestyle.
Related: Why would you bother with healthy eating?
Taste of summer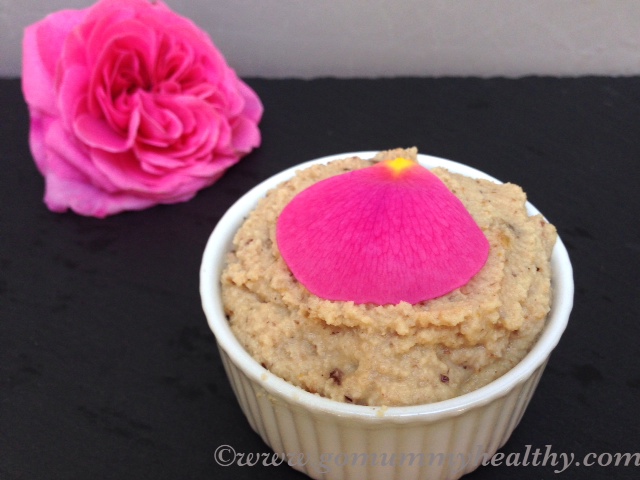 Rose butter – recipe
1 cup almond peeled and soaked in water overnight
Water
1 cup fresh washed rose petal
1 tbsp rose water
5 dates stoned or equal amount raisins
Place the almond into a blender or food processor, add water just enough to cover it and make a smooth cream. (Scrap down the almond pieces from the side a couple of times as you go.)
When it is really smooth add the rose petals, dates and rose water and make a cream.
This rose butter keeps well in an airtight food container or a jar in the fridge at least for a week. Enjoy on your toast, or spread on freshly baked sweet oat buns, add to porridge or live yogurt, smoothies – or use it in cakes. I can imagine to add it to icing on cupcakes and muffins too.
Related: Healthy breakfast: quick sugar-free oat buns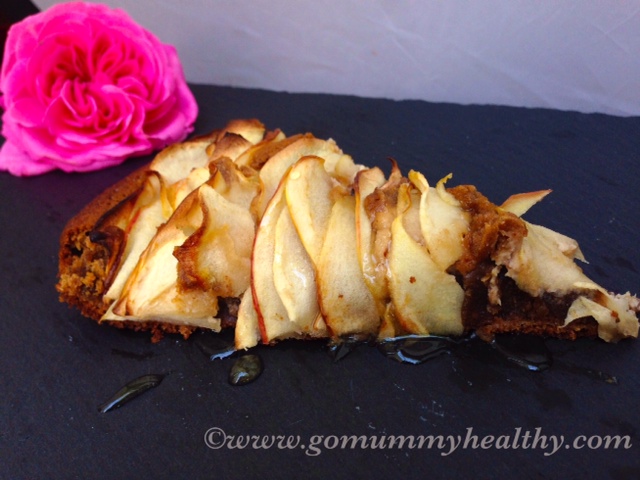 Apple and rose cake – recipe
Ingredients:
80g unsalted butter or low-fat spread
100g brown sugar
1 large egg
75g wholemeal flour
75g plain flour
1/2 tbsp baking soda
1/2 tbsp baking powder
pinch of salt
150g natural yogurt
20ml water
2 large apples
juice of 1/2 lemon
about half of the rose butter from recipe above
Step 1
Pre-heat the oven to 200C / 400F / Gas mark 6. Grease a shallow cake tin or a shallow frying pan / skillet pan (what you can use in the oven), about 23-25 cm diameter.
Cut the apples into thin slices (I used a slicer here) and cover them with the lemon juice.
Step 2
In an electric mixer beat together the butter and sugar until it is light and fluffy. Add the egg and 1 tbsp rose butter and yogurt, combine. In a separate bowl mix together the dry ingredients: plain and wholemeal flour, baking powder, baking soda and salt.
Step 3
Add the dry ingredients to the wet ingredients and quickly mix them together. Using a spatula evenly distribute the batter. With a teaspoon drop small pieces of rose butter on the top. Arrange the apple slices on the top of the batter overlapping until the whole surface is covered. Bake it for 20 minutes, or until the edges are golden. You can test it with a tester- it should come out clean. serve warm or cold, drizzle with honey if desired.
∗∗∗∗∗
More recipes?

Comments